The Mexican Senate passed a measure Tuesday to make soldiers accountable to civilian courts for abuses involving civilians, and ensure the use of troops in actions like the offensive against drug cartels is temporary.
The legislation now goes to Congress' lower house, the Chamber of Deputies, for consideration.
Mexico's army has increasingly been used to perform policing duties in the drug war, and complaints have piled up about illegal detentions, searches and shootings by soldiers.
Under the current legal rules, soldiers who allegedly commit abuses while on duty are tried in military courts; abuses committed off duty go to civilian courts.
The bill passed by the Senate on a 105-1 vote would make it mandatory for soldiers accused of such offenses be tried in civilian courts.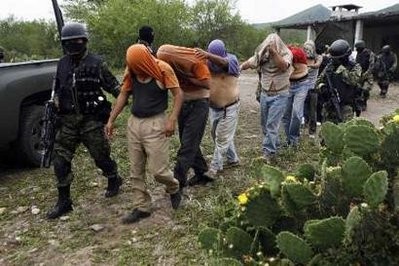 Soldiers escorts men freed after being kidnapped by drug hitmen at a ranch near the municipality of Sabinas Hidalgo, some 100 km away from Monterrey April 27, 2010.
It would also require time limits on the use of troops for domestic security assignments, Currently, their use is at the discretion of the president.
On Monday, army troops killed three suspected kidnappers and freed seven of their victims from a ranch in the northern state of Nuevo Leon, about 60 miles (100 kilometers) from the Texas border.
The Defense Department said soldiers were acting on a tip when they raided the ranch and came under fire. The troops detained four suspects and 40 rifles after the clash and also found two rotting bodies in a truck near the ranch.
In the western state of Michoacan on Tuesday, authorities reported that an elementary school principal was found stabbed to death in his home with a threatening drug cartel message.
The state attorney general's office said the body of Jose Luis Perez was found Monday night at his home in the western town of Zamora. Next to him was a piece of cardboard with the message: "La Familia does not forgive. This is what happens to snitches."
Michoacan is a stronghold of La Familia, a brutal drug gang known for beheading its rivals and staging bold attacks on security forces.
The attorney general's office said Perez taught sixth grade at one elementary school and was the director of another.
In the northern border state of Chihuahua, a police official was killed in the state capital Tuesday and three bullet-ridden bodies were found on the outskirts of the city, also known as Chihuahua. The bodies of the three men had been bound with duct tape.
Police spokesman Jesus Reyes said city police precinct coordinator Alonso Aguilar was shot to death in his patrol vehicle by gunmen traveling in a pickup truck.
In the Pacific coast resort of Acapulco, the Mexican navy detained 25 city police officers for carrying 36 non-regulation firearms not issued by their department. Police abuse frequently involves nonofficial firearms, since most departments test and track only policemen's registered weapons.
Navy personnel also found a bag of marijuana in one city patrol car.