Opening a new chapter in a seven-year anti-trust saga, Microsoft has requested the five-day trial at the Luxembourg-based European Court of First Instance in hope of recouping all or least part of the fine, which it has already paid.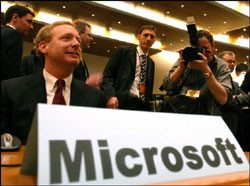 Microsoft Corp. legal chief Brad Smith (L) waits in Luxembourg for the start of the US software giant's five-day trial at European Union's Court of First Instance (AFP Photo)
However, it also hopes to show that the European Commission, the EU's executive arm, erred when it ruled in March 2004 that the company had abused its dominant market power to squash competition.
Determined to see the ruling thrown out by the court, the group has enlisted an army of lawyers, computer scientists and advisors which it hopes will convince the 13 judges hearing the case that the EU competition watchdog ruling is ill-founded.
In the face of Microsoft's defiance, the European Commission remains confident that its ruling is watertight and cannot be sunk by the company's legal offensive.
But it will not be until the end of this year at the very earliest that the judges will hand down their decision, which could then be appealed.
After a five year investigation, the European Commission took its biggest competition decision ever in March 2004 when it found that Microsoft had broke EU law by using a quasi monopoly in personal computer operating systems to thwart rivals.
In addition to fining Microsoft 497 million euros (612 million dollars), the EU also ordered Microsoft to sell a version of its widely-used Windows operating system unbundled from its Media Player software and to divulge information on its operating system needed by makers of rival products.
Although Microsoft reluctantly paid the fine, it has failed to satisfy Brussels' demands to correct the situation and filed the appeal against ruling to get it overturned.
Separately from the trial, the commission has threatened Microsoft with fines of up to two million euros per day if it finds in the coming months that the company is not doing enough to meet the demands laid out in the landmark 2004 ruling.
The trial holds huge stakes for both sides because a defeat for Microsoft would leave it little choice than to bow to the commission's demands while EU regulators could see their authority seriously compromised for the future if they were to lose.
Source: AFP