US software giant Microsoft has said that revenues surged to a record high in the recent quarter as Windows 7 operating system succeeded where its predecessor failed.
operating system succeeded where its predecessor failed.
Microsoft reported that its net profit in the quarter ending March 31 climbed 35 percent to 4.01 billion dollars.
The firm's revenue hit a record 14.50 billion dollars in the quarter, up six percent over the same period a year ago.
"Windows 7 continues to be a growth engine, but we also saw strong growth in other areas like Bing search, Xbox Live and our emerging cloud services," said Microsoft chief financial officer Peter Klein on Thursday.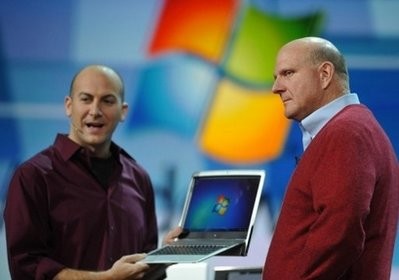 Microsoft CEO Steve Ballmer (right) is joined by a Windows project manager at an electronics show in Las Vegas, Nevada.
Microsoft said revenue from its Windows computer operating system was up 28 percent over a year ago, driven by strong demand for the latest version, Windows 7.
"Business customers are beginning to refresh their desktops and the momentum of Windows 7 continues to be strong," chief operating officer Kevin Turner said.
Strong profit due to droves flocking to Microsoft's new operating system is a strong sign of the pent-up demand created when people shunned its predecessor Vista.
Microsoft released Windows 7 to the world in October as it tried to regain its stride after an embarrassing stumble with Vista.
While computer users may not give much thought to operating systems that serve as the brains of their machines, the programs are at the heart of Microsoft's global software empire.
Microsoft operating systems run more than 90 percent of the world's computers.
The failure of Vista to catch on hurt Microsoft competitively, giving Apple the opportunity to woo PC users to Mac.
Apple reported stellar quarterly earnings this week, citing factors that included lots of people buying Macintosh machines for the first time.
Microsoft apparently learned a lesson from Vista and worked closely with computer makers, users and software developers while crafting Windows 7.
Some say consumers snatching up Windows 7 or machines pre-loaded with the software is a sign that the economy is on the mend.
"Microsoft is a phenomenal bellwether for technology spending," analyst Rob Enderle said. "If they go up, it is one of the strongest indications that the tech market is improving."
Windows 7 is installed on more than 10 percent of computers worldwide, making it the fastest selling operating system in Microsoft's history, according to Klein.
Data released by industry-tracker IDC shows that personal computer sales rebounded at the end of last year and that momentum has carried into 2010.
Further good news for the technology industry came in the form of computer chip titan Intel nearly quadrupling its profit in the first three months of this year.
"We are encouraged by improving market conditions taking shape," Klein said during an earnings webcast.
Wall Street had anticipated strong earnings from Microsoft since computer sales appeared to be picking up.
"Increased earnings in an improving but still troubled market is always good news," Enderle said. "But we are not out of the woods yet."
March was the 10th consecutive month of slight gains in search share for Bing, which Microsoft unveiled in June accompanied by a 100-million-dollar advertising campaign in a bid to challenge search juggernaut Google.
Bing's share of the US search market rose to 11.7 percent in March from 11.5 percent in February, according to Web analytics firm comScore.
Google remained the overwhelming leader of the lucrative US search and advertising market with 65.1 percent in March.
Microsoft saw online advertising revenue climb 19 percent and expects its growth to outpace the overall market. Klein said the benefits of a deal to use Bing for searches on Yahoo! should begin kicking in later this year.
Yahoo! and Microsoft unveiled a 10-year Web search and advertising partnership in July that set the stage for a joint offensive against Google.
Microsoft is still losing more money than it makes in online operations, spending a lot of cash to gain ground in search advertising, according to financial analyst blogger Henry Blodget.