The WTO is expected on Monday to hand over a final but confidential ruling to the United States and EU on their bruising dispute over decades of multi-billion dollar US public aid to aircraft giant Boeing.
"We are about to reach another important milestone in the WTO aircraft dispute," said Boeing Vice President for trade policy Ted Austell.
The ruling -- which marks the second major stage in a seven-year, tit-for-tat subsidies battle along with the separate US challenge to European support for rival Airbus -- should remain out of the public eye for a few months under World Trade Organization rules.
Sources in Washington said the lengthy ruling on large civil aircraft should be handed over to the two governments on Monday around 1530 GMT, giving lawyers on both sides the chance to come to grips with its complex findings.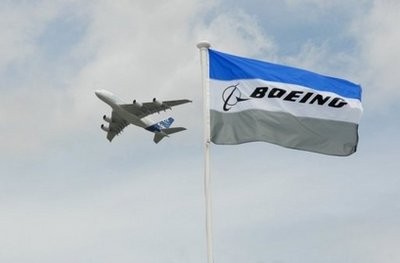 An Airbus A 380 flies over a Boeing flag flies at an airshow.
Airbus said last Tuesday that it expects the WTO's arbitrators to award the European Union 45 billion dollars (32.8 billion euros) in "compensation", after interim findings were provided to the two sides last September.
"It will confirm that Boeing received illegal aid," said Maggie Bergsma, spokeswoman for European aircraft manufacturer Airbus.
"The aid given to Boeing was in fact much more significant in terms of distorting competitiveness than any sort of aid which Airbus has received."
"We consider that an amount of at least 45 billion dollars will be called for in compensation," she added.
The EU has estimated that Washington gave Boeing 24 billion dollars in disguised subsidies. Not all subsidies or public support are illegal under WTO rules, which seeks to stop those distorting international trade.
Although the dispute involves governments, both companies have been waging a public relations battle on the sidelines of the dispute. Boeing swiftly rejected Airbus's claim.
The "statement from Airbus is simply ridiculous," a spokeswoman for the US aircraft maker said.
Boeing has nonetheless acknowledged that the interim findings did show that some US support was "inconsistent with the rule set", although the amounts are disputed.
"In fact, those findings suggested that any assistance that was alleged to have been found against Boeing in United States was far far smaller, not even comparable to the findings in the USA against Europe case," Austell explained.
Washington has estimated that the economic damage suffered as a result of European support to Airbus amounts to up to 200 billion dollars, an amount that Brussels contests.
Beyond tax breaks and other advantages, a key issue in the EU complaint is the question of aid to Boeing from NASA and the US Defence Department for aerospace research and development, and its scope or impact on civil aircraft.
Trade insiders believe that the WTO's ultimate verdicts will fault both sides, in a similar manner to 2003 rulings on Brazil and Canada's battle over aid for aircraft makers Embraer and Bombardier.
The United States and EU have already appealed against the other ruling on European subsidies for Boeing, and a similar pattern is expected once the Monday's ruling on US support for Boeing becomes public.
Austell also highlighted the likely emergence of new large civil aircraft makers that would compete against the giants from either side of the Atlantic. Boeing and Airbus have largely shared the spoils in recent decades.
"Remember again there are countries all around the world who propose to be large civil aircraft makers and they too are watching how the United States and Europe address this issue," he said.
Executives have suggested those countries would include China and Brazil, and the WTO rulings would serve to lay down markers indicating the limits of state support for such emerging ventures.