Militants overran a security post and killed four officers in a northwestern Pakistani region that the army claimed to have cleared of insurgents earlier this year, a government official said Friday.
Elsewhere in the Afghan border region, fighter jets killed 24 insurgents and security forces arrested 40 militants, intelligence officers and a government spokesman said.
The attack on the post in Bajur shows the difficulties facing Pakistan as it seeks to clear and hold mountainous regions close to the Afghan border where al-Qaida and Taliban militants have long enjoyed a safe haven.
The United States and Pakistan's other Western allies are pushing it to undertake sustained action against extremists blamed for scores of attacks that are destabilizing the country as well as neighboring Afghanistan.
The Pakistani army said in March a six-month offensive in Bajur had defeated the militants in a stronghold that lies just next door to the insurgency-ravaged Afghan region of Kunar.
Dozens of militants late Thursday attacked the post manned by tribal police in Khar, killing four officers, said Idalat Khan, a government official.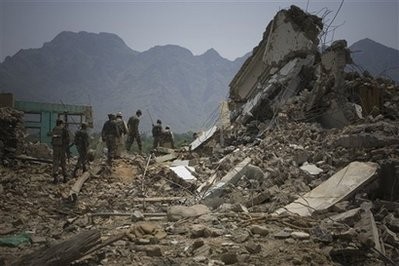 Pakistani secuirty forces officers walk over debris of houses in Sultanwas, Buner, Pakistan
Khar is the main town in Bajur and was heavily damaged in the army offensive to retake it.
Pakistani jets destroyed several militant hide-outs late Thursday in the Aurakzai tribal region, killing 24 insurgents, two intelligence officials said on condition of anonymity because they were not authorized to speak to the media.
The raids took place in Mohmand region, also on Thursday. The captured men were loyal to Pakistani Taliban leader Baitullah Mehsud, said the region's deputy administrator Syed Ahmad Khan.
It was not possible to independently verify the information because the border region is remote and dangerous.
Two months ago, the army launched an offensive in the Swat Valley after Taliban militants violated the terms of a cease-fire and began advancing into areas close to the capital. The army claims to have cleared nearly all the valley and killed more than 1,700 insurgents.
On Thursday, the government announced a plan to allow some 2 million people who fled the offensive to return home next week, saying the region was now secure and essential services restored. The refugees have stayed in crowded camps and in homes just south of the northwestern region.
It remains unclear how quickly they will return, but anecdotal accounts from refugees in recent days suggest most were eager to go home but short of money. The government has promised to give cash to those returning.