Militants blew up a high school and a clinic in restive northwest Pakistan on Friday in the latest spike of violence that has left more than 300 people dead this month, officials said.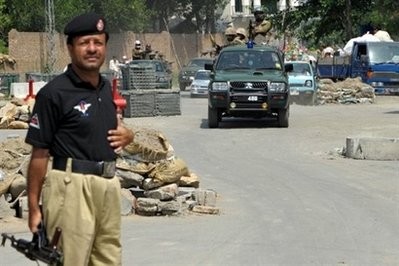 A Pakistani policeman stands guard as soldiers ride past a checkpoint in Mingora, the capital of troubled Swat valley in August. (AFP Photo)
A 12-room state-run high school for boys and a clinic in Shahukhel village were turned to rubble by explosives planted by militants, chief of Hangu district administration, Gul Wali Khan, told AFP.
There were no casualties because the buildings were empty, he said. Up to 80 kilograms (176 pounds) of explosives were used, he added.
Militants have destroyed hundreds of schools, mostly for girls, in the North West Frontier Province (NWFP) over the past few years.
Nearly 200 schools were destroyed in the Swat valley alone during a two-year violent campaign by radical cleric Maulana Fazlullah to enforce sharia law.
Following up a similar offensive in Swat this summer, Pakistan is pressing a major ground and air operation designed to crush Taliban sanctuaries in the lawless South Waziristan region, which borders Afghanistan.
Authorities last week shut schools across Pakistan following a suicide attack on a university campus in Islamabad. Although most schools reopened on Monday, several private schools have remained closed this week.