Insurgents killed eight Afghan policemen in a raid early Thursday on a checkpoint outside the northern city of Kunduz, the provincial chief of police said.
Abdul Raziq Yaqoubi said police suspected the raid was carried out by militants from Russia's restive Chechnya region who are active in the surrounding province, also called Kunduz.
More than 10 militants took part in the attack, two or three of whom were believed to have been wounded when the police fought back, Yaqoubi said.
The militants apparently hoped to steal the policemen's weapons, but were beaten back before they could do so, he said.
Kunduz has seen an increasing number of attacks on Afghan and foreign coalition forces who rely on a supply line running south through the province from neighboring Tajikistan. Foreign fighters from Chechnya, Pakistan and the Persian Gulf are smuggled into the area over the rugged mountainous border with Pakistan to the east.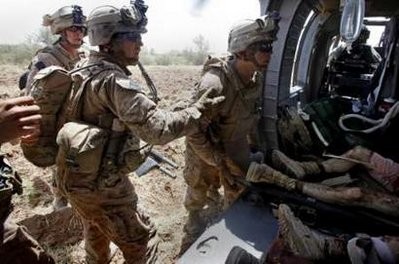 U.S. Marines talk to medevac helicopter crew members after loading two comrades gravely wounded in an IED (improvised explosive device) blast near the town of Marjah in Helmand Province in this picture taken August 22, 2010.
Also Wednesday, investigations continued into an infiltration attack at a coalition base in the northwestern province of Badghis in which two Spanish police trainers and their Iranian-born Spanish translator were killed.
Spain's Interior Ministry says the officers' driver opened fire on the men during a training exercise Wednesday morning. The driver was killed shortly afterward in a hail of gunfire.
Spain's interior minister, Alfredo Perez Rubalcaba, described the incident as a "terrorist attack."
"I can't say if the Taliban were behind this or not," he told reporters in Madrid. "But what is clear is that it was a premeditated attack. The person who opened fire knew exactly what he was doing."
Perez Rubalcaba said the assailant had worked with the Spanish Civil Guard, a paramilitary force, since the unit arrived in Afghanistan five months ago to train Afghan police.
After word of the shooting spread, several hundred angry men gathered outside the walls of the Spanish compound, shouting "Allahu Akbar," or God is Great, hurling stones and ripping down fences around the installation, Associated Press Television video showed. At least one vehicle was torched and gunshots were fired, although it was unclear who was shooting.
Provincial health director Abdul Aziz Tariq said 25 people were wounded in the protest, most of them by bullets, with two in critical condition. Seven of those hospitalized were under 18 years old but their wounds were not life threatening, he said.
The protest underscored the brewing resentment among many Afghans over the presence of foreigners on their soil, further encouraged by the insurgents as a way of turning the population against the national government in Kabul.
There was no immediate claim of responsibility from the Taliban on either incident.
Meanwhile, NATO reported that three Afghan civilians were killed Wednesday by a homemade bomb in southern Kandahar province's Arghandab district, a Taliban stronghold that has seen a growing coalition presence.
Two Taliban commanders were also killed Wednesday in fighting with a joint Afghan-Taliban force in neighboring Uruzgan province, along with 12 regular insurgent fighters, the Afghan National Police reported. Four insurgents were captured in the operation, the police said.
One Taliban fighter and one policeman also died in a shootout in Helmand province to the west, it said.
No coalition casualties were reported in the actions.