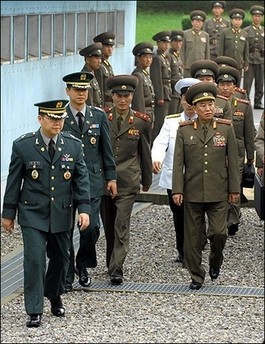 North and South Korean military officers cross the border at Panmunjom to attend general-level military talks on the south side of the truce village.
Talks aimed at averting bloody naval clashes between Republic of Korea (South Korea) and Democratic People's Republic of Korea (North Korea) broke down Thursday when DPRK refused to recognise their sea border.
"We've come to the conclusion that we don't need these fruitless talks any more," DPRK's chief delegate Lieutenant-General Kim Yong-Chol said on the third and final day of a high-level military meeting.
A red-faced and apparently angry Kim attacked the South for refusing to discuss replacing the Northern Limit Line in the Yellow Sea with a new maritime border, calling the current line "illegal."
The Northern Limit Line (NLL), drawn up by United Nations forces at the end of the 1950-1953 Korean War, has been a flashpoint in recent years.
Six South Koreans were killed in a clash in June 2002 in the area, while in June 1999 a similar skirmish killed dozens of DPRK's sailors.
The North says the South's warships continue to fuel tensions by violating its waters in the area, accusations rejected by Seoul.
The talks at the border truce village of Panmunjom were aimed at discussing ways to prevent further clashes and setting up a joint fishing area. They come amid a wider easing of tensions after the North shut the reactor which supplied its nuclear weapons programme.
But the South refuses to accept the North's insistence that the way to avoid clashes is to hold talks on redrawing the sea border. It says the two sides should instead discuss issues such as the opening of a hotline between Navy commanders.
The two generals left the room without shaking hands or setting a date for their next meeting.
The delegations were also discussing military safety guarantees for cross-border railways, roads and other economic projects.
The South said the North refused to discuss overland transport until the sea border issue is settled.