PARIS, June 11, 2010 (AFP) - France, Spain and Italy on Friday urged UN powers not to allow a diplomatic backlash against Israel for its deadly raid on Gaza aid boats, and called on the Jewish state to abandon violence.
The three countries' foreign ministers backed calls for an inquiry but cautioned that a previous report had led to undue pressure on Israel, in an opinion piece in the International Herald Tribune and other newspapers.
They cited the follow-up to a UN-mandated report by judge Richard Goldstone into the Israeli army incursion into Gaza in 2008-2009 -- a move prompted by rocket attacks from the Hamas-ruled territory into Israel.
UN powers "must... be sure to avoid the mistakes made after the submission of the Goldstone report," said the piece by France's Bernard Kouchner and his counterparts Franco Frattini of Italy and Miguel Angel Moratinos of Spain.
That report's "follow-up was exploited by the (UN) Human Rights Council, half of whose resolutions, unfortunately, have been devoted to condemning Israel," they said.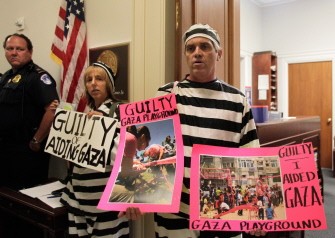 Activists of the Free Gaza Movement protest outside the offices of Rep. Brad Sherman, D-California on Caoitol Hill in Washington, DC June 10, 2010. AFP photo
The Goldstone report accused Israel and Palestinian groups of war crimes during the fighting in December 2008 and January 2009 in Gaza, ruled by the armed movement Hamas.
The ministers in Friday's piece called for Israel to lift its blockade of the impoverished territory, in place since 2007, and suggested EU authorities inspect goods entering the strip by sea or land to check for weapons.
"These arrangements would be implemented only against a backdrop of very substantial relaxation of the restrictions on imports and exports to and from Gaza."
In the flotilla raid as well as in the Gaza war, "Israel decided to use force to achieve its political and security objectives," the ministers wrote.
"That logic must now be abandoned, because if it is not, more tragedies will occur that can only strengthen Hamas and Israel's other enemies in the region, destabilise moderates in both camps and deepen Israel's political isolation."