MISRATA, Libya (AFP) – Heavy shelling by forces loyal to Libyan leader Moamer Kadhafi killed at least four civilians in the besieged third city of Misrata, the scene of bloody clashes for more than 40 days.
NATO's role in the conflict came under renewed scrutiny and on the diplomatic front both the European Union and the African Union announced initiatives to help bring about a ceasefire.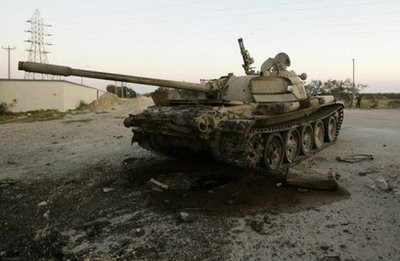 AFP - The wreckage of a rebel tank sits at a roundabout in the eastern town of Misrata.
And in a sign of the rebels' growing confidence at their ability to combat government forces, they relaxed restrictions on foreign journalists approaching the front line near the refinery town of Brega, an AFP correspondent reported.
A source in the insurgent stronghold of Benghazi said four people, including two children, had been killed in Misrata and 10 wounded on Friday.
"Kadhafi forces continue to fire blindly on the houses of Misrata," the rebel source said. "Today, four martyrs fell, including two children under age four."
Misrata, about 215 kilometres (130 miles) east of Tripoli and the rebels' last major bastion in the west of Libya, has seen fighting for more than 40 days since the start of the uprising against Kadhafi on February 17.
The clashes came as a debate raged over how well NATO air forces are enforcing a UN-mandated no-fly zone.
Criticism of the role of NATO air forces, who are charged by the UN Security Council with protecting the civilian population, was growing with rebels in Misrata slamming NATO for what they said was its lack of response to a relentless pounding by Kadhafi forces for more than a month.
NATO was already facing criticism by the opposition after its warplanes hit rebel tanks on Thursday near Brega, killing four people, wounding 14 and leaving six others missing.
NATO chief Anders Fogh Rasmussen on Friday called the bombing an "unfortunate incident".
"I strongly regret the loss of life," Rasmussen said of the strike, labelled by rebel military commander General Abdelfatah Yunis as a NATO "error."
The operation's deputy commander, British Rear Admiral Russell Harding, refused to apologise, saying the alliance was unaware rebels were using tanks and that it was becoming hard to distinguish between the two sides on the road.
The rebels said they were "not seeking an apology but an explanation."
"We are not questioning the intention of the NATO," rebel spokesman Shamsiddin Abdulmolah told AFP.
"It appears that there has been a breakdown of communication, perhaps due to the visibility on the ground... and that the positions of our tanks have not been made clear to the NATO," he said.
In Benghazi, around 400 protesters chanted "Down with NATO" in reaction to the Brega bombing.
European Union foreign ministers will meet a member of the Transitional National Council next week, despite a lack of consensus in the bloc on how to deal with the opposition group.
EU foreign policy chief Catherine Ashton issued the invitation on Tuesday to the meeting in Luxembourg, which will be the first between the Libyan opposition and the EU as a whole.
A group of African leaders will visit Libya this weekend and meet with both sides in the country's deepening conflict to demand an immediate ceasefire.
South African President Jacob Zuma and other leaders from a high-level African Union panel will first hold talks in Mauritania on Saturday, then travel to Libya to meet Kadhafi in Tripoli and rebel leaders in Benghazi.
Italy will decide next week whether to join in shelling Kadhafi's troops, but was likely to remain in a supporting role, Defence Minister Ignazio La Russa said.
"Italy will decide in the middle of next week whether to participate in the bombardments, after I have met with the British and French defence ministers," La Russa said in an interview with La Repubblica daily.
La Russa said he would meet France's Gerard Longuet and Britain's Liam Fox informally on Monday or Tuesday "to see what they would like Italy to do".
Rebels allowed journalists to head west from the strategic road junction town of Ajdabiya towards the front line near Brega on the central coast for the first time since Wednesday.
Reporters were stopped between the two towns and rebel commanders declined to specify exactly where the front line lay, saying it was a "military secret".
But no exchange of fire could be seen or heard, implying it lay futher west near Brega where it has been for most of the past 10 days.
Rebel fighters overseen by defectors from the regular army unloaded a dozen Grad rockets from a dump truck before loading them onto a launcher mounted on the back of a pick-up heading to the front, an AFP correspondent reported.
Anti-aircraft guns, a multiple-rocket launcher and pickups mounted with heavy machine guns were also being prepared to join the fighting.
Two captured Kadhafi loyalists were brought back from the front. Excited rebel fighters chanting: "Allahu Akhbar (God is Greatest)," gathered round taking photographs on their mobile phones.
One of the pro-government fighters was seated in the back of a Landcruiser and seemed in good health.
But the other, who was lain in the back of pickup truck, had blood all over his arm and appeared quite badly wounded. He covered his face with his hands as the convoy pulled up.