A suspected U.S. missile strike destroyed the home of a close relative of top Pakistani Taliban leader Baitullah Mehsud in a volatile tribal region, killing two people early Wednesday, two intelligence officials said.
The officials said the missile targeted the Akramud Din's home in South Waziristan, part of the lawless tribal region along Pakistan's border with Afghanistan and where Taliban and al-Qaida leaders are believed to be hiding.
The officials, who spoke on condition of anonymity because they are not authorized to speak to media, did not say what relation the casualties were to Mehsud. They said one of the dead was a woman.
One of the officials said it was not clear whether Mehsud himself was in the house at the time, but that he was known to often visit.
The second official said agents were trying to get details about the second person who died in the attack.
Mehsud is the head of Tehrik-e-Taliban, a militant group blamed by Pakistan for the assassination of the country's ex-premier, Benazir Bhutto, in a gun-and-bomb attack near the capital Islamabad in December 2007.
He is also accused of organizing dozens of other suicide attacks in Pakistan.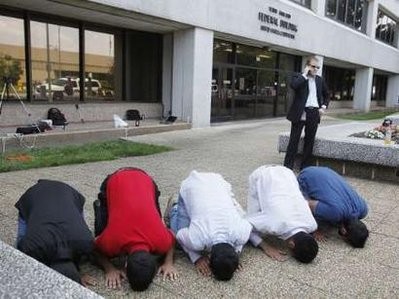 A group of supporters pray in front of the Terry Sanford Federal Building and Courthouse in Raleigh
Pakistan's air force
and the military have carried out several attacks targeting Mehsud, and the army has said it is preparing for a major offensive against Mehsud and his network in the tribal region.
Wednesday morning's attack is the latest in a series of suspected U.S. missile strikes in recent weeks targeting Mehsud.
Pakistani and U.S. officials say the missiles have killed several al-Qaida operatives in the North and South Waziristan tribal regions where Pakistan has deployed more than 100,000 troops to flush out militants and their local supporters.
Pakistan has publicly opposed such attacks, saying they were counterproductive and were angering local residents. Islamabad has asked Washington to provide it with access to the latest technology to it so that Pakistan's own military could carry out such attacks.