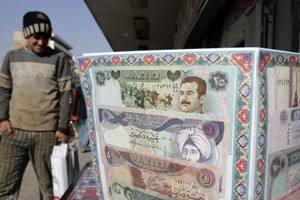 Old Iraqi money picturing Saddam Hussein is for sale at a shop in a central Baghdad market, Dec. 27, 2006.
Iraq prepared on Wednesday for the rapid execution of former dictator Saddam Hussein, with the US-backed government eager to bring his chapter in the country's bloody history to an end.
The US has hailed a ruling by an Iraq court that Saddam Hussein be executed within 30 days, while the EU has urged Baghdad not to carry out the sentence.
The former leader could be hanged on any day over the next four weeks, after an appeal against his execution failed.
The sentence is for killings in the town of Dujail in 1982. He is on trial in a second case, but under Iraqi law the execution must go ahead regardless.
The time and location of the hanging has not been made public.
Correspondents say it may only be revealed after the former president is dead in order to avoid civil disruption and unrest.
The White House called the ruling a landmark in Iraq's efforts "to replace the rule of a tyrant with the rule of law".

But a number of groups have complained about the legality of the proceedings, including US-based Human Rights Watch, which said the Iraqi government had undermined the credibility of the trial.
India meanwhile has urged clemency - expressing concern over any delay to the restoration of peace in Iraq, while the EU has called on Iraq not to carry out the death sentence.
Appeals Court judge Arif Shaheen told a news conference in Baghdad the execution date could not "exceed 30 days".
"As from [Wednesday] the sentence could be carried out at any time," he said, adding that there could be no further appeal and the sentence could not be commuted.
Saddam Hussein's defence lawyer Khalil al-Dulaimi said the court's verdict "was expected".
"We were not at all surprised, as we are convinced that this has been - 100% - a political trial," he said.
'Too lenient'
The Dujail case relates to killings that followed a failed assassination attempt against the then Iraqi leader in 1982.
Saddam Hussein's half-brother Barzan al-Tikriti and Iraq's former chief judge Awad Hamed al-Bandar were also sentenced to death.
Former Vice-President Taha Yassin Ramadan was sentenced to life imprisonment and three others received 15-year prison terms.
The appeals court said Ramadan's sentence was too lenient and returned it to the High Tribunal for consideration of the death penalty.
Another co-defendant, Baath party official Mohammed Azawi Ali, was acquitted.
Saddam Hussein is on trial separately in connection with a military campaign against Kurdish communities in the 1980s.