BEIJING, Jan 31, 2010 (AFP) - A moderate earthquake struck southwestern China on Sunday, killing one person, injuring at least 11 others and collapsing some homes, the government said.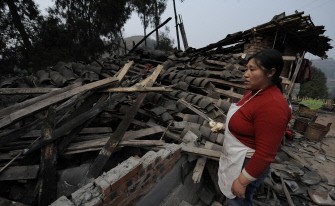 A woman stands next to the rubble of her collapsed home in Suining on January 31, 2010. AFP PHOTO
The quake measuring 5.0 on the Richter scale struck Sichuan province at 5:36 am (2136 GMT Saturday) with its epicentre near the city of Suining, the Sichuan earthquake authority said.
The US Geological Survey rated the quake at magnitude 5.2.
State television showed pictures of single-story homes that had collapsed into rubble.
The reports indicated that dozens of homes were damaged or collapsed but did not give a precise figure.
An 8.0-magnitude earthquake hit Sichuan in May 2008, leaving nearly 87,000 people dead or missing and more than five million others homeless.
Chinese state media said last week that authorities would complete more than 90 percent of reconstruction in quake-devastated Sichuan province this year.