BEIJING, Sept 19, 2009 (AFP) - A moderate earthquake with a magnitude of 5.4 struck southwest China Saturday, the United States Geological Service said but there were no immediate reports of damage.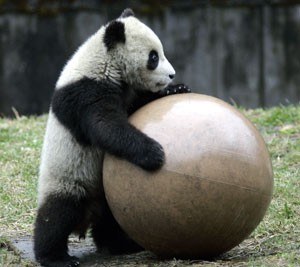 File photo taken March 22, 2009 shows a panda playing with a ball at the China Conservation and Research Centre for the Giant Panda, in the Wolong Nature Reserve in China's southwestern Sichuan province. China's wild panda population has remained stable despite last year's Sichuan earthquake (AFP photo)
The quake hit the border region between Sichuan province and Gansu to the northwest at a depth of about 10 kilometres (six miles), the USGS said.
The epicentre was about 50 kilometres northwest of the Sichuan city of Guangyuan, the report said.
The area, including Guangyuan, was rocked by a devastating magnitude 8.0 earthquake on May 12 last year that left more than 87,000 people dead or missing.
The Guangyuan seismological bureau said Saturday's quake registered a magnitude 5.1 on China's earthquake scale and downplayed the possibility of heavy damage.
"It was not a strong quake, but teams have been dispatched to inspect for damage," bureau official Tang Xingwen told AFP by phone.
"So far we do not have any reports of deaths or damages. We are not expecting any serious damage."