ULAN BATOR, Aug 25, 2009 (AFP) - Russia and Mongolia on Tuesday signed a deal to form a joint venture to exploit the Dornod uranium deposit in resource-rich Mongolia.
The agreement between Russia's state-owned nuclear energy giant Rosatom and Mongolia's Mon-Atom was signed in the presence of visiting Russian President Dmitry Medvedev and his Mongolian counterpart Tsakhiagiin Elbegdorj.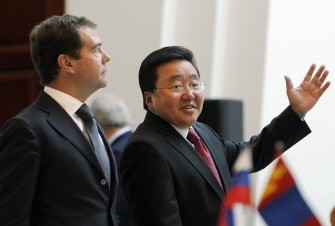 Russian President Dmitry Medvedev (L) speaks with Mongolian President Tsakhiagiin Elbegdorj (R) during a document signing ceremony in Ulan Bator on August 25, 2009 (AFP photo)
Rosatom chief Sergei Kiriyenko said the deal marked the first time Mongolia had agreed to create a joint venture with a foreign company to mine and process uranium.
"Russia will be the first. It's an important political signal," Kiriyenko told reporters.
Under the deal, Atomredmetzoloto, a unit of Rosatom, and Mon-Atom will create a 50-50 joint venture that should be launched by year's end, he said.
The deal so far only covers the Dornod deposit, but could cover another area in the future, Kiriyenko added.
He declined to give an exact figure for the deal, but said Russia would invest "hundreds of millions" of dollars.