HOLLYWOOD, March 7, 2010 (AFP) - Mo'Nique won the Oscar for best supporting actress at the 82nd Academy Awards here Sunday for her portrayal of an abusive parent in the harrowing independent drama "Precious."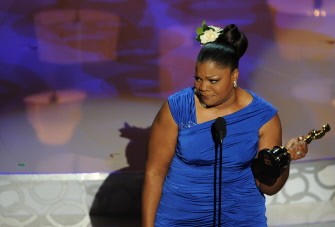 Mo'Nique gives her acceptance speech at the 82nd Academy Awards at the Kodak Theater in Hollywood, California on March 07, 2010. AFP PHOTO
The 42-year-old comedienne had emerged as the overwhelming favorite for the famous golden statuette after reeling in a series of corresponding honors at awards shows leading into the Oscars.
She becomes only the fourth black actress in history to win an Oscar following Hattie McDaniel, Whoopi Goldberg and Halle Berry.
"First, I would like to thank the academy for showing that it can be about the performance and not the politics," Mo'Nique said as she stepped up to receive her award.
"I want to thank Miss Hattie McDaniel for enduring all that she had to so that I would not have to."
She also thanked daytime talkshow queen Oprah Winfrey and director and producer Tyler Perry for their support of the project based on 1996 novel, "Push" by Sapphire. "Precious" also won the Oscar Sunday for the best adapted screenplay.
Mo'Nique thanked her husband Sydney, adding: "Thank you for showing me that sometimes you have to forgo doing what's popular in order to do what's right. And baby, you were so right."
Other nominees for the award Sunday included last year's winner Penelope Cruz for "Nine," Maggie Gyllenhaal for "Crazy Heart" and "Up In the Air" duo Anna Kendrick and Vera Farmiga.