International election monitors declared Haiti's vital post-quake elections valid, while two leading presidential candidates rowed back on allegations the polls had been rigged.
Gripped by cholera and traumatized by January's earthquake, Haiti faced the specter of political unrest on Sunday when 12 of the 18 candidates cried foul before polls had closed. Thousands of protesters took to the streets.
But on Monday, longtime opposition leader and pre-election favorite Mirlande Manigat and popular musician Michel Martelly, another leading candidate, dramatically reversed their calls for the polls to be scrapped.
International monitors then gave their crucial verdict, deciding that although there had been widespread problems, including violence, poor organization and claims of fraud, this was not enough to doom the polls.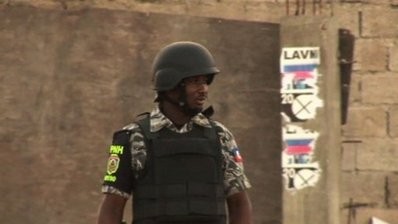 Haiti's top election authorities have validated Sunday's vote, despite widespread complaints of electoral fraud and calls from almost all major candidates to scrap the ballot
"The joint mission does not believe that these irregularities, serious though they are, should invalidate the elections," said Colin Granderson, head of the observer mission from the regional CARICOM and OAS blocs.
The stakes could not be higher as hospitals overflow with victims of cholera -- the epidemic has claimed more than 1,700 lives -- and Haitians search for a leader to turn around a dysfunctional, failing nation.
The Provisional Electoral Council (CEP) on Sunday denied allegations it was in cahoots with the ruling INITE (Unity) party, stuffing ballot boxes to ensure victory for President Rene Preval's handpicked protege Jude Celestin.
Election day violence was not extreme by Haitian standards but two deaths were reported and several polling stations were attacked by angry mobs.
The polls were also dogged by poor organization. Hundreds of thousands of earthquake survivors were without the necessary ID cards and others had the right papers but didn't know where to vote.
The Sorbonne-educated Manigat, a 70-year-old striving to become Haiti's first female president, had enjoyed a clear opinion poll lead from Celestin, the 48-year-old ruling party candidate who lives with Preval's daughter.
Celestin, who was plucked from obscurity by Preval to run the government road construction entity after the quake, enjoyed the full use of the powerful INITE party machine during the campaign.
But despite his face beaming down from posters on every street corner of the capital, he has struggled to shake off the impression he is too close to Preval, who was once a man of the poor but is now despised in the slums.
Martelly, a 49-year-old popular performer of Haitian kompa music, had been running third in the opinion polls, well ahead of the remaining contenders.
None of the candidates are expected to pass the 50 percent threshold needed for outright victory, meaning a run-off between the top two will be held on January 16.
With first results not expected until December 5 and no final announcement before December 20, the notoriously unstable Caribbean nation of 10 million is entering an uncertain period of political limbo.
Manigat told a press conference she had a "good chance of winning" and said she was now prepared to participate in a second round, while Martelly defended their original challenge to the polls.
"It's probably this declaration of yesterday that made the results today what they are," said the musician, more commonly known by his stage name "Sweet Micky."
"We are beginning to receive official documents which clearly show that while there have been no tricks it's the change (candidates) who are leading," he added.
But 10 other less fancied candidates stuck with their fraud claims and maintained their appeal for the elections to be cancelled.
"We will not compromise on the issue of fraud committed in these elections. We will not accept a situation that is a fait accompli," Jacques-Edouard Alexis, a two-time former prime minister, said.
The CEP has stood its ground, validating the election in all but 56 of the country's 1,500 polling stations and insisting that any voter fraud was minimal and isolated to about three percent of polling stations.
The UN peacekeeping mission in Haiti (MINUSTAH), which helped administer the polls, expressed "deep concern at the numerous incidents that marred the elections."
Aware that Haiti -- where anger abounds at the slow pace of quake reconstruction, at cholera, at Preval, at the inescapable poverty -- is a powder keg, MINUSTAH urged candidates and the populace to remain calm.
A statement late Sunday, issued in consultation with ambassadors from leading nations including France and the United States, noted the possible "dramatic consequences" of a deteriorating security situation.
Some 250,000 people were killed by the earthquake that levelled Port-au-Prince in January and more than 1.3 million displaced by the disaster still live in squalid tent cities, now prey to the growing cholera epidemic.