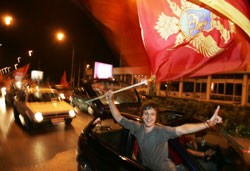 A supporter of Montenegrin independence waves a Montenegrin flag and celebrates in Podgorica, May 21 2006 (AFP Photo)
"For the independence of Montenegro, 55.4 percent voted in favour and 44.6 were against," referendum commission president Frantisek Lipka announced.
Lipka, a Slovak diplomat, said the vote count was yet to be finalised from some 45 of the 1,120 polling stations used in Sunday's vote, but stressed the incoming results would not affect the final outcome.
The announcement seals the final break-up of old Yugoslavia's six republics after the blood-soaked wars of the 1990s had already led to Bosnia, Croatia, Macedonia and Slovenia leaving the federation.
The pro-independence prime minister of the tiny mountainous Adriatic state, Milo Djukanovic, had jubilantly proclaimed victory earlier Monday, declaring it as "the most important day in the history of Montenegro".
Djukanovic has always said his motive for creating a separate state was a desire not to be dominated by Serbia, which has a population of more than 10 times the size of Montenegro's 650,000.
The 44-year-old architect of the independence bid had also argued that the republic would be able to speed up its bid to join the European Union by acting on its own and without Serbia.
Belgrade's failure to hand over fugitive former Bosnian Serb general Ratko Mladic to the United Nations war crimes tribunal by April 30 led this month to the EU suspending membership talks with the federation.
In Sunday's referendum, voters were asked to endorse or reject the question: "Do you want Montenegro to be an independent state with full international and legal legitimacy?".
Under rules agreed with the European Union, more than 55 percent of at least half of Montenegro's 485,000 eligible voters had to back independence to create the world's newest mini-state.
The result also means independence by default for Serbia, which faces the further possibility of losing the disputed ethnic Albanian majority province of Kosovo in UN-backed talks before the year's end.
The so-called state union of Serbia and Montenegro replaced rump Yugoslavia in March 2003.
Source: AFP