BRUSSELS, Nov 17, 2011 (AFP) - Italy's new Prime Minister Mario Monti will visit Brussels next week for talks with EU president Herman Van Rompuy on the eurozone debt crisis which has engulfed Rome.
Van Rompuy said he spoke with Monti, a former European Union competition commissioner, by phone on Thursday to discuss "the situation in the euro area and particularly in Italy."
"I expressed the EU's full confidence on the Italian capacity to overcoming its current situation and to fully contribute to solving the euro area financial crisis," Van Rompuy said in a statement.
"We agreed to continue our discussion in a meeting in Brussels next week," he said. A spokesman for Van Rompuy said no date was fixed yet.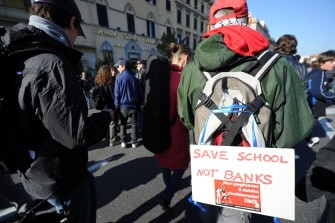 AFP - Students and protesters march during a demonstration to protest against the cuts in the education budget and against the austerity measures in Europe on November 17, 2011 in Rome.
A technocratic government led by Monti was sworn in on Wednesday after Silvio Berlusconi was forced to step down amid intense pressure from financial markets spooked by Italy's massive debt.
EU leaders, who hold their last summit of the year on December 9, have urged Rome to press ahead with budget cuts and structural reforms to fend off debt crisis contagion that forced Greece, Ireland and Portugal to take bailouts.