Aftershocks, avalanches and flooding will likely cause more heavy losses in China's mountainous southwest following last week's devastating earthquake, a senior government official said Thursday.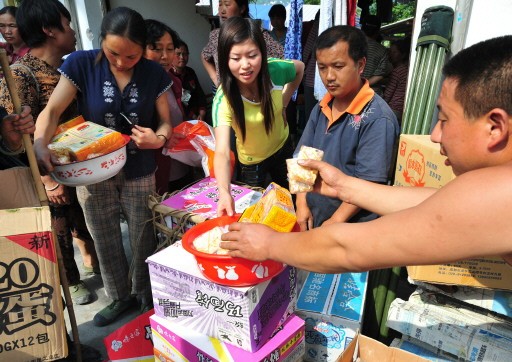 Food aid is distributed to quake survivors in Zipingpu on May 22, 2008 in southwest China's quake stricken Sichuan province.(AFP Photo)
The 8.0-magnitude earthquake has increased geological risks along China's Dragon Gate seismic fault, Yun Xiaosu, vice head of the Ministry of Land and Resources, told reporters.
"As rain increases during the rainy season and coupled with the continuous aftershocks, it is very probable that geologic hazards in the disaster area will increase and again bring a large amount of losses," he said.
"The earthquake has already reduced stability in the mountainous areas and formed a large number of new geologic hazards and hidden dangers."
The quake, the biggest to hit China in more than 30 years, has left over 80,000 people dead or missing, and more than five million homeless.
Most of the flattened towns and villages have been along the Dragon Gate seismic fault in the Himalayan foothill region of Sichuan province.
Yun said one of the biggest concerns was the creation of 34 bodies of water known as "quake" or "barrier" lakes that formed after landslides blocked rivers. He said they could burst and threaten populated areas.
"We must be aware that the barrier lakes that we have identified are very serious," said Liu Yuan, vice director of the ministry's geologic environment department.
"I want to be clear about this in order to ensure safety -- if these barrier lakes burst, the after effects will be severe over a wide area."
Officials had ordered all threatened areas near the quake lakes to evacuate, he said.
Experts were studying ways to engineer channels around or through the barriers to alleviate rising waters and reduce the potential dangers, especially on the Minjiang river, a major tributary of the Yangtze, he said.