WUKIRSARI, Indonesia, Nov 4, 2010 (AFP) - Indonesia ordered thousands more people to evacuate Thursday as the country's most active volcano erupted again, shooting gas and ash into the sky and triggering a new aircraft exclusion zone.
Volcanologists said the "high intensity" eruption was the strongest yet from the 2,914-metre (9,616-foot) Mount Merapi, but there were no reports of new casualties after 36 people were killed last week.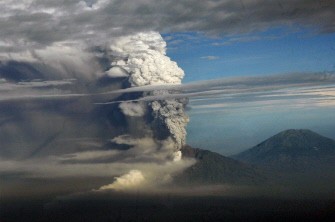 A view from a domestic flight from Denpasar to Yogyakarta that was subsequently diverted to Surabaya airport shows a plume of gas and ash billowing some 10 km (six miles) high from the Mount Merapi volcano during an eruption on November 4. AFP
"Today's eruption is bigger than yesterday's. Heat clouds and volcanic material were shot 10 kilometres (six miles) into the sky," said Kurniadi Rinekso, a government scientist in Yogyakarta, which lies south of the volcano.
An avalanche of heat clouds that can kill anything in their path streamed nine kilometres down the slopes of the volcano, a sacred landmark in Javanese tradition whose name translates as "Mountain of Fire".
Evacuees staying at an emergency shelter in Wukirsari village in Sleman district, about 20 kilometres from the volcano's peak, said it spat heat clouds and debris for about three hours after dawn.
Scientists however said it had erupted throughout the night but the scale of the blasts -- which reached almost as high as the altitude of cruising jetliners -- had only become visible after sunrise.
Officials said the number of people at safety shelters rose to 90,000 from 75,000 on Wednesday, when the official exclusion zone was widened from 10 to 15 kilometres around the volcano, taking in many more villages.
"The emergency shelters are now overcrowded," emergency response field coordinator Widi Sutikno said.
"We've started to move facilities and equipment from the previous shelters to the new locations," he added.
In Magelang district military official Ida Bagus Surya said volcanic debris ripped 10 tents on Wednesday.
Indonesia's transport ministry told pilots to stay at least 12 kilometres away from the rumbling volcano, spokesman Bambang Ervan told AFP.
The authorities kept in place a flight safety warning first issued on Tuesday, he said, and added the exclusion zone on a "recommendation from the volcanology office".
Malaysian budget carrier AirAsia said it resumed flights to the nearby cities of Yogyakarta and Solo Thursday morning after calling off eight flights on Tuesday and Wednesday.
SilkAir, the regional wing of Singapore Airlines, has cancelled four flights between Singapore and Solo since Tuesday, the company's staff said.
Indonesian President Susilo Bambang Yudhoyono on Wednesday visited people displaced by the volcano as the disaster-prone country struggles to cope with dual natural disasters following a tsunami off Sumatra on October 25.
The three-metre wave smashed into villages on the remote Mentawai island chain following a 7.7-magnitude earthquake off the coast, killing 428 people and leaving 15,000 homeless.
Another 74 people remain missing, feared dead.
Bad weather and poor communications on the undeveloped islands -- a legendary destination for foreign surfers -- have hampered efforts to bring food, shelter and medicine to the affected areas.
"We have to use rubber boats to reach isolated villages. We even have to swim to bring the boat over coral reefs," Indonesian Red Cross (PMI) spokeswoman Fitriana Sidika said.
She said survivors were suffering from infections to untreated wounds, respiratory problems and malaria.
"They're living in unhygienic environment. We're coordinating with local government to relocate them to another place," she said from Bulakmonga hamlet on North Pagai island, where about 70 people were staying despite their houses having been flattened.
There was no news on the fate of three New Zealand yachtsmen who have not been heard from since the tsunami. They were believed to have been sailing towards the Mentawais on the night the three-metre wave struck.
The Indonesian archipelago has dozens of active volcanoes and straddles major tectonic fault lines from the Indian to the Pacific oceans.