Long one of Hollywood's favorite backdrops -- though, in recent years, only so far as its grit and flash can be depicted from stand-in California studios and Vancouver streets -- New York is increasingly drawing producers when it comes to location work.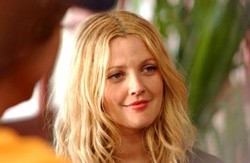 Drew Barrymore in Columbia's 50 First Dates - 2004
With 31,500 days of filming tallied in a year -- twice as much as in 2002 -- 2005 beat all of the city's records, according to the Mayor's Office of Film, Theatre and Broadcasting. The movie and television production business, which employs about 100,000 people in New York, has become the biggest job-creating industry.
It has been a dramatic comeback.
In the 1990s, production costs as high as the city's fabled skyscrapers, a lack of studios and Canada's tax incentives and exchange rate, all helped send film crews packing. The September 2001 terror strikes made things worse.
Hit series set in New York such as "Seinfeld", "Friends" and "NYPD Blue" were filmed on suspiciously sunny Los Angeles lots. The Oscar-winning movie "Moonstruck" stars Cher and Nicolas Cage in a made-in-Toronto Brooklyn.
"Sex and the City" and "Law and Order" are among the few that started and stayed in the Big Apple.
"The perception of the industry was that New York was not film-friendly, and costly, and that it was difficult to shoot here. We wanted to send out a signal to the industry that we needed the business, we wanted it and we really wanted to work with the productions," explains Katherine Oliver, commissioner of the mayor's film office.
"Some people are intimidated about coming to New York; it's a big city, there's a lot of traffic, and they wonder 'where do I begin?'," says Oliver.
"What we've been dedicated to doing is to making it as easy as possible, for local filmmakers but also international filmmakers to feel comfortable."
In early 2005, New York state and the city started a key tax-break program that cut production costs by 15 percent.
Other incentives for producers followed from easier access to monuments, police help, discounts on hotels and services, free publicity for premieres and easing up on the bureaucracy involved in getting films made.
While local legend Woody Allen has not come running back just yet, real New York street corners and buildings are in demand for shoots.
One building in the Soho neighborhood, over a decade's time, has been a backdrop for a video by rap mogul P Diddy, and has "starred" with Dennis Quaid in a comedy, in a Bruce Willis action film, and a television series pilot, according to its owner.
Meanwhile, a sort of "Hollywood-on-the-East River" began taking off with the 2004 opening of Steiner Studios, a state-of-the-art studio complex built by a real estate magnate on a dockside area fixed up by the city.
Another studio, Silvercup, which opened in a former industrial bakery in Queens in 1983, is playing catch-up with a major expansion, with sets and more designed by Richard Rogers, the architect famous for his work on Paris' Centre Pompidou.
Just wrapped at Silvercup are "The Devil Wears Prada" with Meryl Streep; Steiner will be handling Spike Lee's latest "Inside Man" and "Fur," with Nicole Kidman.
Even Martin Scorsese filmed his latest here, which is ironically set in Boston.
"There's always been a sense that independent filmmakers are a breed that will do better outside of the Hollywood system, so outside of California," said Lina Srivastava, interim executive director of the Association of Independent Video and Filmmakers.
"It's better on this coast for them. There's more interplay with the arts here. It's like this cultural melting pot and that adds to the vibe," she says.
But the future of the tax credits, which have run out of funding, is up in the air, and up to the state legislature.
Oliver is optimistic the money will be found to keep the program afloat.
"It's important to realize that, yes, it creates jobs and brings money to the city, and it's roughly a five-billion-(dollar)-a-year industry, but it's also a great way to market New York, because most people around the world know New York City because they've seen it in a movie or on a TV show," she explained.
"So it's our best interest to work with these productions because it's a wonderful postcard for our city. Tourism is a big business for this city."
Source: AFP