NATO carried out fresh air raids on Tripoli Saturday as Moamer Kadhafi's government planned to withdraw from the besieged third city of Misrata and leave local tribes to fight off insurgents.
Senior US Senator John McCain urged the Western coalition on Friday to launch intensified air strikes against Libyan troops and recognise the rebels' council as he became the highest-ranking US politician to visit the rebel-held east since the popular uprising began in mid-February.
Rebels bogged down in their bid to oust Kadhafi on Friday hailed a US decision to deploy armed drones over Libya.
"We hope that this can bring some relief to the people in Misrata," the rebels' media liaison Mustafa Gheriani told AFP of the rebel-held city in western Libya that has been pounded by Kadhafi's forces for more than six weeks, leaving hundreds dead.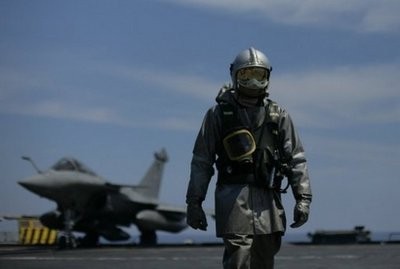 A firefighter walks past a Rafale jet fighter on the flight deck of the Charles de Gaulle aircraft carrier in the Mediteranean. NATO carried out fresh air raids on Tripoli Saturday as Moamer Kadhafi's government planned to withdraw from the besieged third city of Misrata and leave local tribes to fight off insurgents.
AFP journalists reported hearing several blasts early Saturday after many warplanes flew over the Libyan capital.
Anti-aircraft fire rang out as ambulance sirens wailed. Al-Libya television said Tripoli was "now the target of raids by the barbaric crusader colonialist aggressor," a term used for Western forces.
The official JANA news agency reported that two people died in NATO air raids late Friday on the Zenten region southwest of Tripoli where stepped up fighting has taken place with rebels who hold several towns. NATO warplanes had overflown Libyan leader Moamer Kadhafi's stronghold throughout the day.
Libyan Deputy Foreign Minister Khaled Kaim said armed tribesmen would be dispatched to Misrata, while the army would be phased out, to deal with the rebellion "using force or negotiation.'
Kaim said US President Barack Obama's administration had decided to send drones to Libya "to assassinate the people," accusing Washington of "new crimes against humanity" after those he said had been committed in Iraq and Afghanistan.
A NATO official said the unmanned drones and their precision would give the allies more options, especially in urban warfare.
"The use of drones will make it easier to target Kadhafi forces in crowded urban areas. A vehicle like the Predator, that can get down lower and can get IDs, will better help us carrying out the mission with precision and care," the official said.
The US military's top officer, meanwhile, said allied air strikes had destroyed 30 to 40 percent of Kadhafi's forces and noted the conflict was progressing into a stalemate.
"I am sure that NATO forces will continue to attrite the military capability of the regime forces," Admiral Michael Mullen said in Baghdad.
Rebels, who on Thursday overran a post on the Tunisian border in their first advance in weeks against Kadhafi's forces, have complained that civilians are being killed in places like Misrata, where entire streets have been pulverised by gunfire, shelling and cluster bombs.
"Our houses are being hit by bombs and rockets," said 45-year-old Ibrahim Issa Abu Hajjar, who fled the city with hundreds of civilians aboard a Turkish ferry to Benghazi.
Simon Brooks of the International Committee of the Red Cross issued a stark warning that the humanitarian situation could "rapidly deteriorate further and the lack of basic services such as water, electricity, food and medical care could turn critical."
The UN refugee agency said some 15,000 people had fled fighting in western Libya into Tunisia in the past two weeks and a much larger exodus was feared.
McCain, a Republican who lost his 2008 presidential bid to Obama and has lobbied for greater US involvement in the UN-mandated NATO air campaign aimed at preventing Kadhafi's forces from attacking civilians, met the rebel leaders in Benghazi.
He was greeted at their city centre headquarters by a small crowd who chanted, "Libya free, Kadhafi go away -- thank you America, thank you Obama."
McCain later urged the world to recognise the Transitional National Council as the "legitimate voice of the Libyan people."
"They have earned this right," he told a news conference. "I met with all the key leaders of the Council and applaud their remarkable progress in their struggle for liberation."
McCain also said he supported intensified air strikes by high precision planes against Kadhafi's fighters, but opposed deploying ground troops, saying rebels would be better served by intelligence and military coordination.
Asked about McCain's appeal, White House spokesman Jay Carney said "it's for the people of Libya to decide who the head of their country is, not for the United States to do that."
French President Nicolas Sarkozy signalled his agreement "in principle" to follow in McCain's footsteps and visit Benghazi.
France, Italy and Britain have said they would send military personnel to eastern Libya, but only to advise the rebels on technical, logistical and organisational matters and not to engage in combat.
Government troops have held back rebels for more than three weeks in eastern Libya and suffered heavy losses in Misrata.
Rebel leaders there have pleaded for foreign help, saying the air strikes are not enough to dislodge Kadhafi troops hiding in civilian areas and fighting street by street.
The French foreign ministry said the European Union was planning for a possible military intervention to bring aid to Misrata despite UN reservations.
"Faced with the worsening humanitarian situation, in particular in Misrata, the multinational general staff in Rome is continuing to plan for a military operation to support humanitarian aid," spokeswoman Christine Fages said.
"The European Union is ready to respond to any UN request."
Massive Libyan protests in February -- inspired by the revolts that toppled longtime autocrats in Egypt and Tunisia -- escalated into war when Kadhafi's troops fired on demonstrators and protesters seized several eastern towns.
The battle lines have been more or less static in recent weeks, however, as NATO air strikes have helped block Kadhafi's eastward advance but failed to give the poorly organised and lightly armed rebels a decisive victory.
Gambia, meanwhile, said it was recognising the TNC as the only legitimate body representing Libyan interests, and expelling Tripoli's diplomats.
It became the fourth country after France, Italy and Qatar to recognise the TNC.