More heavy rains struck Indonesia's capital on Thursday, hampering clean-up efforts and piling on misery for hundreds of thousands of people camping under make-shift shelters after days of floods.
However, an official at the Jakarta Flood Crisis centre said the latest flooding was less widespread than in the past week.
The official, Kartawi, added that water levels at sluice gates controlling flows into the largely flat, low-lying city had returned to normal in all cases but one.
The death toll from the floods, Jakarta's worst for at least five years, remained at about 50, the official said, with around 230,000 still displaced.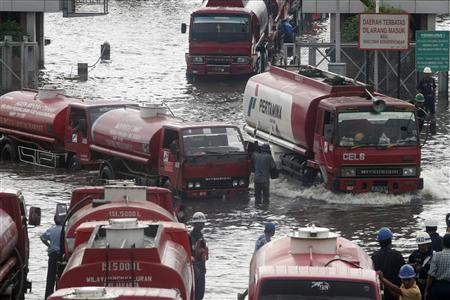 Trucks belonging to a state-owned oil and gas company line up to fill their tanks at a flooded fuel terminal in Jakarta February 7, 2007.
In the Prumtung cemetery in east Jakarta, hundreds of people were living under tents made of plastic next to gravestones after their homes were flooded, relying on food handouts.
"I've already been here for seven days with four children," said Kusmiah, who uses just one name.
With so many displaced since the floods started late last week, there are concerns about disease and sanitation in the city and its suburbs, home to an estimated 14 million people.
President Susilo Bambang Yudhoyono pledged to maintain supplies of food and medicine to those affected.
"The overall situation is improving, even though we still expect that the rain will return in Jakarta," he told a news conference.
The heavy overnight rains largely subsided in the capital on Thursday, but the meteorology agency said there could be more rains in the next few days.
Officials and green groups have blamed excessive construction in Jakarta's water catchment areas for making the floods worse.
DESPERATE TO GO HOME
In Kampung Melayu, one of the worst-hit areas, the floods had receded despite the latest rain, although water remained more than 1 metre (3 ft) deep in some places, an official said.
"I still worry that the house floods whenever it rains," resident Saniah told Reuters Television, as she tried to clean her kitchen utensils in water collected after recent rain.
The previous flood disaster in 2002 saw widespread looting, but National Police Chief General Sutanto said there had been no repeat this time and he had dispatched 14,000 police officers to flood-hit areas, Antara news agency reported.
Officials have also been on alert for disease outbreaks. So far, people mainly appear to have been suffering diarrhoea, respiratory infections and skin diseases.
Losses at manufacturing firms in Jakarta could top 1 trillion rupiah (56 million pounds) due to the floods, Sofyan Wanandi of the Indonesian Employers Association told the Jakarta Post newspaper.
Insurance firms may face claims of over $200 million (102 million pounds) from the floods as the damage is seen to be worse than from floods in the city in 2002, a top industry official said.
"Around 75 percent of the claims may come from insurance policies for commercial buildings like hotels, shopping centres, malls, banks or factories," Frans Sahusilawane, the head of the association of Indonesian non-life insurance firms (AAUI) said.
Bambang Trisulo, the head of Indonesia's Automotive Industry Association, said the floods were delaying output and distribution, although the impact should be short-term.
Most of Indonesia's auto makers have their factories in greater Jakarta area.