NASA faced the prospect of more stormy weather Monday as it tried for the fifth time to launch shuttle Endeavour to the international space station.
Thunderstorms prevented Endeavour and seven astronauts from blasting off Sunday evening. Forecasters said there was a 60 percent chance the weather would force yet another delay Monday evening for the space station construction mission.
"It's just not our day for the weather," launch manager Mike Moses said following the latest postponement.
"We'll be ready," commander Mark Polansky said.
NASA has until Tuesday, possibly Wednesday, to launch Endeavour with the final piece of Japan's space station lab. Otherwise, it will have to wait until the end of July because of a Russian supply ship that's awaiting liftoff.
Sunday's countdown, at least, made it all the way to the nine-minute mark.
Saturday's launch attempt was foiled several hours in advance by a series of lightning strikes around the pad that required extra checks of the many critical shuttle systems. Back in June, hydrogen gas leaks held everything up.
No leaks popped up this time, thanks to all of the repairs. The tight plumbing allowed Polansky and his crew to board the shuttle for the first time for a real launch try.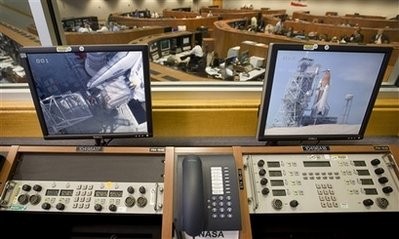 In this photo provided by NASA, monitors in firing room four of the Launch Control Center show launch pad 39a with the space shuttle Endeavour
Endeavour holds the third and final segment of Japan's enormous $1 billion space station lab, named Kibo, or Hope. It's a porch for experiments that need to be exposed to the vacuum of space. The shuttle also is loaded with large spare parts for the space station and hundreds of pounds of food for the six station residents.
When the shuttle astronauts finally arrive at the space station, they will make up the biggest crowd ever in a single place in orbit: 13 people.
Endeavour will spend nearly two weeks at the space station. In all, the flight will last 16 days. Five spacewalks are planned to hook up the Japanese lab's new porch, replace space station batteries and perform other maintenance.