More than 60 people have been killed and another 160,000 forced to flee their homes in floods that have swept through parts of Indonesia and Malaysia in the past week, according to officials.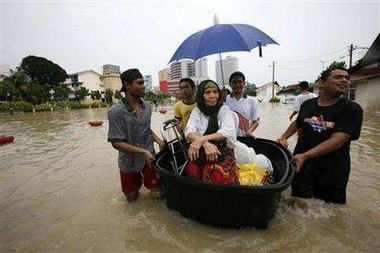 Flood victim sits in a bucket in the flooded village of Kampung Morten in Malaysia's southern state of Malacca
In Indonesia, the death toll has risen to 60 and hundreds more remained missing after torrential rains battered the island of Sumatra. Some 70,000 people have been displaced in Aceh province, devastated by the 2004 tsunami.
Officials in Malaysia said seven people had been killed and nearly 90,000 others were forced to evacuate their homes in the worst floods to hit the country in decades.
"We have evacuated 60 bodies from Aceh Tamiyang district," Ghufran Zainal Abidin, the local chairman of the Prosperous Justice Party, told AFP from Indonesia's Aceh province, on the northern tip of Sumatra island.
"The Aceh Tamiyang area is trapped by water and the only way we can go around is by boat," said Abidin, who is helping to coordinate the flood relief effort.
Earlier, officials said hundreds of people had been reported missing in the district. The local capital Kuala Simpang is still cut off from rescue teams, Abidin said.
Heavy rains have unleashed floods across Sumatra, forcing thousands to flee their homes and take refuge in state-run camps.
The army and Indonesian Red Cross were rushing aid supplies to the area.
Authorities in Aceh feared the death toll could climb further, as rescue personnel had not yet been able to reach parts of Gayo Lues and East Aceh districts.
In other parts of northern Sumatra, water levels continued to rise as heavy rains showed no sign of letting up and a dam burst. The main roads connecting provinces of West Sumatra and Riau are cut off, Kompas daily reported Sunday.
Indonesian Vice President Jusuf Kalla has pointed the finger at illegal logging as one of the causes of the deadly floods, and pledged that the government would intensify its efforts to replant the forests.
On Sunday, Malaysian Prime Minister Abdullah Ahmad Badawi lashed out at looters who had taken advantage of the chaos sparked by the devastating floods, urging the public to make citizen's arrests if they witnessed any wrongdoing.
"Make a citizen's arrest. There is nothing wrong with that. You cannot just leave it to the police if you see something (wrong)," he was quoted as saying by the Sunday Star newspaper during a visit to flood-hit Johor state.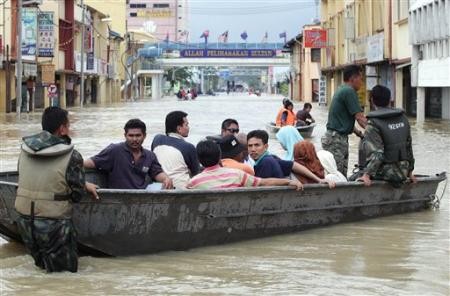 Soldiers transport civilians through flood waters in Kota Tinggi, in the southern state of Johor, Malaysia, Saturday, Dec
"Do not allow this to go on. Do not wait for the public to act, but all those (helping in the relief) should take action against the looters," he added.
Reports of looting have surfaced in Johor, Malacca, Negeri Sembilan and Pahang states in north and central Malaysia.
Police have thus far arrested five people in Kota Tinggi, one of the worst-affected areas of Johor state, where at least 2,400 homes are still under water.
Tens of thousands of Malaysians were on Sunday still living in government emergency shelters that were starting to run out of essential supplies.
Rosleli Zahari, political chief of the ruling United Malays National Organisation in Kota Tinggi, estimated that losses could total millions of ringgit.
"Houses, cars, palm palm oil estates and fish farm are damaged," he said.
"The flood situation is still bad but it seems to be improving. We pray the rain will stop," he added.