More people will perish in Myanmar's cyclone disaster zone unless the regime lifts restrictions on foreign aid, US Defence Secretary Robert Gates warned Sunday, accusing it of "criminal neglect."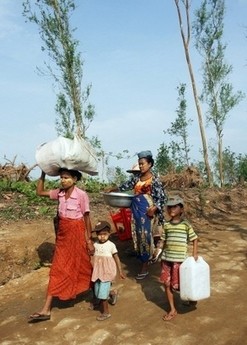 Women and children carry goods at a refugee camp in Labutta, in the Ayeyawaddy Division, some 200 miles from Yangon, on May 31. More people will die unless Myanmar changes its approach to foreign relief after the devastating cyclone, US Defence Secretary Robert Gates said Sunday, accusing the junta of "criminal neglect."(AFP/Khin Maung Win)
Nearly a month after the storm tore through swathes of Myanmar, around 60 percent of the 2.4 million survivors remain without foreign aid, despite some opening-up by the military rulers after an intense UN-led diplomatic push.
The junta blocked entry to overseas aid workers in the critical days after Cyclone Nargis pummelled the impoverished nation on May 2-3, leaving 133,000 people dead or missing.
"Unless the regime changes its approach, its policy, more people will die," Gates said en route to Bangkok after a regional security forum in Singapore.
"I would describe it as criminal neglect."
Gates, who earlier said that Myanmar's initial delays could have cost tens of thousands of lives, added that the United States would decide within days whether to recall four US Navy ships waiting to deliver aid.
He said it was "becoming pretty clear" the junta would not accept military help from the United States, which has been a fierce critic of the regime.
The USS Essex and three other ships have been off the coast of Myanmar for more than two weeks with a dozen helicopters, landing craft and Marines, but have been refused permission to use them to distribute relief.
Supplies are slowly trickling through to worst-hit areas, but the generals -- notoriously suspicious of the West -- are wary of what is coming in.
"We would warmly welcome any assistance and aid which are provided with genuine goodwill from any country or organisation, provided that there are no strings attached, or politicisation involved," Deputy Defence Minister Aye Myint told the same forum in Singapore that Gates attended.
He said officials were now concentrating on reconstruction, with the junta estimating the cyclone caused more than 10 billion dollars in damage.
"For those groups who are interested in rehabilitation and reconstruction, we are ready to accept them in accordance with our priorities," he added.
That stance earned Aye Myint "a good old-fashioned ear-bashing" from donor nations represented at the conference, Canadian Defence Minister Peter MacKay told AFP, adding Myanmar appeared to be in "a state of denial."
MacKay said Canada and other nations have been ready to supply food, water, clothing, shelter and other basics, but "have met with considerable reticence and reluctance to let that relief flow."
While more foreign aid workers are now being allowed into Myanmar, they are finding it difficult to gain access to some of the hardest-hit areas -- where villagers say they have received little or no government help either.
What they are finding instead is that many people are still without clean water and at risk of disease.
With the monsoon rains now hitting hard, survivors are at increased risk of respiratory infections, MSF said in a statement.
Residents in the hard-hit Irrawaddy Delta village of Kanzeik are only now getting the plastic sheets and clean water that should have arrived long ago.
"I was so happy once I saw the aid boat entering the village," said Kyaw, a 35-year-old villager with four children.
"I'm so glad that I got what I really need for my family now. At least our family can live safely under the rain for this year," he told AFP.
With crucial supplies now arriving, aid groups hope storm victims can think about returning to the fields in this key rice-growing area -- but many others in need of food, shelter and medicine still remain out of reach.
Aye Win, the UN's spokesman in Yangon, said about 41 percent of survivors, or close to one million people, had received some form of assistance.
"There have been some improvements" in access and visas, he added, "albeit not as much as would like them to be."