The horrific explosions at the Buratha mosque are likely to stoke the already raw tensions between Shiite and Sunni Muslims. The U.S. ambassador warned in an interview published Friday that sectarian civil war in Iraq could inflame the entire Middle East.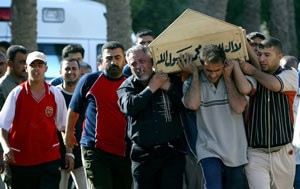 Iraqi men carry a coffin during a funeral procession for a victim caught in a series of blasts at the Baratha mosque, in Baghdad, 07 April, 2006 (AFP Photo)
Rescuers raced to and from the mosque, ferrying bodies from the walled compound on blood-soaked wooden pushcarts and loading them onto pickup trucks. City officials urged Iraqis to donate blood for the wounded.
Inside the mosque, blood stained the chipped and crumbling floor and spattered walls. A firefighter knelt to inspect the scene in the main prayer room.
Police said there were two suicide bombings at the mosque, and an Associated Press photographer saw evidence of two blasts — one at the outer wall surrounding the compound and another at the entrance to the mosque building. The blast in the entrance likely killed some worshippers inside.
But Jalal Eddin al-Sagheer, the preacher at the mosque and one of the country's leading politicians, said there were three bombings. One assailant came through the women's security checkpoint and blew up first, he said.
The preacher, who was not injured, said another raced into the mosque's courtyard while a third tried to enter his office before they both detonated their explosives.
Al-Sagheer accused Sunni politicians and clerics of waging "a campaign of distortions and lies against the Buratha mosque, claiming that it has Sunni prisoners and mass graves of Sunnis."
"Shiites are the ones who are targeted as part of this dirty sectarian war waged against them as the world watches silently," he told Al-Arabiya television.
Mainstream Sunni Arab politicians condemned the bombings, calling on all religious and political leaders to come together in the interest of national unity.
"Bloodshed is forbidden," Sunni lawmaker Adnan al-Dulaimi told Iraqi television.
Also Friday, the U.S. military reported the deaths of four more American service members, including one who died from wounds suffered in Baghdad. Two Marines and a soldier were killed Thursday.
An Iraqi soldier allegedly shot and killed one of the Marines at a base near the Syrian border, and the Iraqi was then wounded by another Marine, a U.S. statement said. At least 2,349 members of the U.S. military have died since the beginning of the Iraq war in March 2003, according to an AP count.
Several hours before the suicide bombings, the Interior Ministry warned the public to avoid crowds near mosques and markets because of a car bomb threat.
Source: AFP