LONDON, March 22, 2011 (AFP) - The majority of Britons believe their armed forces should not risk their lives to protect Libyans against Moamer Kadhafi's regime and 43 percent oppose military strikes, a new poll found.
Some 53 percent believe it would be unacceptable for British armed forces to risk death or injury while trying to protect the Libyan opposition, the ComRes survey for ITV News revealed late Monday.

Only 35 percent of respondents said it was right for Britain to join the international military action to implement a UN ceasefire and no-fly zone, while 43 percent disagreed and 22 percent did not know.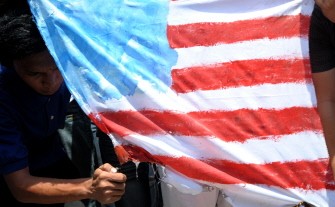 Student activists burn a US flag outside the gates of the US embassy in the Philippines' Manila on March 22, 2011, condemning the Western air assault on Libya.
Opinion is evenly split on whether the action reflects well on Prime Minister David Cameron, with 36 percent saying it does, 34 percent saying it does not, and 30 percent saying they do not know.
British lawmakers overwhelmingly backed the military action in a vote late Monday.
ComRes interviewed 2,028 adults online between March 18 and 20.