Weeks of mass rallies against the premier and a controversial weekend general election boycotted by the opposition have left the kingdom with a political mess that will take weeks to clean up, they said.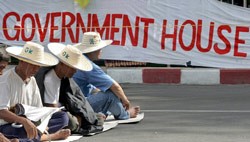 Protesters sit next to a banner during a rally against Thai Prime Minister Thaksin Shinawatra outside Government House(AFP Photo)
John Brandon, director of international relations at the Asia Foundation, said the prime minister's decision did little to resolve the immediate hurdles to forming a new parliament, after the election boycott and a strong protest vote left 39 districts with no elected representative.
"I think it's an important step to help resolve the crisis," he said of Thaksin's resignation. "The next big step is how (to resolve) what happened with the results of the current election."
All 500 seats must be filled for parliament to convene. The Election Commission plans by-elections on April 23, and will re-open the nomination process for those seats in hopes of attracting new candidates.
In most of Bangkok, where protest ballots outnumbered votes for Thaksin's party, residents found themselves stuck with representatives that a majority of them opposed.
The Election Commission has said it may not release final results until the end of the week, but a partial count gave Thaksin 54 percent, with more than two thirds of constituencies reporting.
Thaksin's decision to step down despite his apparent win set the stage for a months-long process of constitutional reform, with an interim government running the country until new elections can be organized.
Although he did not mention any plans for the future in his address Tuesday night, both Thaksin and the political opposition have spoken of creating a special assembly that would amend the constitution -- essentially to weaken the powers of the prime minister.
Once the new parliament convenes, Thaksin has said that process could take up to 15 months before new elections, which the opposition says it is ready to join.
Even a lengthy period of political reforms under a caretaker government was preferable to the unpredictable standoff that had gripped Thailand for two months, said Kiatphong Noijaiboon, a vice chairman of the Federation of Thai Industries.
Source: AFP