CAIRO (AFP) – Egypt's embattled President Hosni Mubarak on Saturday addressed the nation for the first time since deadly protests erupted against his regime, vowing reform but showing no sign of relaxing his decades-old grip on power.
Four days after angry protesters first took to the street and with at least 27 people killed in subsequent street battles, a stoney-faced Mubarak said he had sacked the government and would pursue economic and political reforms.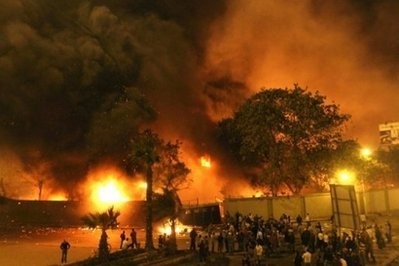 AFP - Egyptians gather around the burning headquarters of the ruling National Democratic party (NDP) in central Cairo.
"I have asked the government to resign and tomorrow there will be a new government," Mubarak, 82, said on state television as protests raged in Cairo and other cities despite a night-time curfew.
"We will not backtrack on reforms. We will continue with new steps which will ensure the independence of the judiciary and its rulings, and more freedom for citizens," he said.
Protesters who have been demanding Mubarak step down, as well as an end to endemic state corruption and police brutality that have become systematic under his rule, dismissed the speech as too little, too late.
"We don't care if the government resigns, we want him to resign," said demonstrator Khaled, 22, in the Mediterranean port city of Alexandria.
Student Abdo, 20, said: "Prices are still high, the problems are still there, this doesn't solve anything."
Thirteen people died in clashes with police on Friday in the canal city of Suez, at least five in Cairo and two in Mansura, north of the capital, with many fatalities caused by rubber-coated bullets, medics and witnesses said.
Seven more people died on Wednesday and Thursday.
Leading dissident Mohamed ElBaradei, who has said he would be prepared to lead a transitional authority if he were asked, was among a crowd of around 2,000 targeted by police and was forced to take refuge inside a Cairo mosque.
Key allies the United States, Britain and Germany on Friday expressed concern about the violence, with Britain noting that the protesters had "legitimate grievances."
US President Barack Obama called on Egyptian authorities not to use violence against protestors, and drove home his message in a 30-minute phone call with Mubarak.
"I want to be very clear in calling upon the Egyptian authorities to refrain from any violence against peaceful protesters," Obama said, after aides said the White House was readying for any possible political scenarios in Egypt.
US Secretary of State Hillary Clinton urged Egypt to do "everything" to restrain its security forces and to embark on immediate reform, while German Chancellor Angela Merkel called on Mubarak to "allow peaceful protests."
Egypt is one of the world's largest recipients of US aid, receiving $1.3 billion a year in military assistance alone.
Thousands ignored a 6:00 pm (1600 GMT) to 7:00 am curfew in Cairo, Alexandria and Suez on Friday night announced by state television, with many protesters calling on patrolling soldiers to join them.
"The army and the people, together!" protesters chanted in front of the Egyptian television building.
Soldiers made V-for-victory signs at passers-by near Cairo's opera house more than two hours after the curfew was to go into effect, with some civilians clambering onto their armoured vehicles.
Protesters poured out of mosques after Friday prayers and run rampant through the streets, throwing stones and torching two police stations. Police chased them with batons, firing tear gas, water cannon and rubber bullets.
"Today is different: all Egyptians are together, the rich and the poor, to get Mubarak out," shouted one protester in downtown Cairo, his face covered with a scarf against the billowing tear gas.
Demonstrators set fire to the Cairo headquarters of Mubarak's ruling National Democratic Party, with television showing footage of the building which overlooks the Nile still ablaze six hours later.
In Suez, protesters overran a police station, seized weapons and set fire to security force vehicles in fierce clashes.
The demonstrations, inspired by events in Tunisia, have swelled into the largest uprising in Egypt in the three decades of Mubarak's rule, sending shock waves across the region.
At least 27 people have now been killed, hundreds more injured and some 1,000 arrested across the country since the protests broke out on Tuesday.
Looting broke out in several parts of Cairo after nightfall, including at offices linked to the government in the upmarket Mohandeseen neighbourhood, with people taking office equipment without any police intervention.
Internet connections were cut across Egypt early on Friday, while mobile phone signals were patchy and text messages inoperative, affecting the ability of protesters to communicate with each other.
oncerns were reflected in the financial world as well on Friday, with Fitch ratings agency saying it had revised its ratings outlook for Egypt to negative. Continuing unrest would threaten economic and financial performance, it said.
The Cairo bourse was closed for the weekend, after having plunged 10 percent this week, but stocks on Wall Street fell sharply on the news.
Oil prices were higher partly because of the Egyptian unrest.