Ousted Egyptian president Hosni Mubarak went into intensive care in the Red Sea resort of Sharm el-Sheikh, shortly after suffering a heart attack during questioning by prosecutors on Tuesday, state media reported.
Former president Hosni Mubarak went into intensive care at the Sharm el-Sheikh International Hospital after suffering a heart attack," the official MENA agency said.
Prosecutors had begun questioning Mubarak and his son Gamal earlier on Tuesday, Justice Minister Abdel Aziz al-Guindi was quoted as saying by MENA.
"But the questioning over acquiring wealth illegally has not yet started as that will be handled by the department of illicit gains," Guindi said.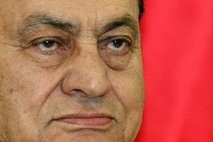 Ousted Egyptian president Hosni Mubarak, pictured in 2009, has been admitted into intensive care.
Earlier, a security official said that both sons, Alaa and Gamal were being questioned in the south Sinai capital of al-Tor, but headed back south to Sharm el-Sheikh after hearing their father had gone into intensive care.
Mubarak went into hospital at 5:00 pm (1500 GMT) in the Red Sea resort where he has been living with his family since nationwide protests forced him to step down in February.
State television reported that Mubarak had refused to eat or drink since he received news on Tuesday morning that he was to be questioned.
On Sunday, public prosecutor Abdel Magid Mahmud ordered the inquiry, as part of a sweeping probe into corruption and abuse.
Nationwide protests that erupted on January 25 forced Mubarak to give up his 30-year grip on power and hand the reins to a military council.
"Mubarak was admitted to the Sharm el-Sheikh International Hospital this afternoon, amid a very heavy security presence in the town," a security source told AFP.
He was admitted by his bodyguards to the VIP wing of the hospital, state television reported, adding that the hospital was not accepting any patients except for emergency cases.
Police cars and ambulances surrounded the hospital, as well as a heavy military police presence, the television said.
The former president was dressed in a black and white track suit, a witness said.
Asked if Mubarak was in good health, hospital director Mohammed Fathallah replied: "Somewhat."
The state-owned daily Al-Ahram, citing sources in Sharm el-Sheikh, said on its website that Mubarak had gone to hospital "under the pretext of being unwell in order to avoid facing questioning."
The Mubaraks were to be asked about allegations that they were "connected to the crimes of assault against protesters, leading to deaths and injuries," the official MENA news agency said on Sunday.
The riots, which saw repeated clashes between protesters, and police and Mubarak loyalists left an estimated 800 people dead and more than 6,000 injured.
The former president was also to be quizzed about allegations of graft, MENA added.
The prosecutor's summons came after the broadcast of an audio tape in which Mubarak defended his reputation and after weeks of mounting protests calling for him to be put on trial.
In the audio message aired on the pan-Arab television network Al-Arabiya, Mubarak complained he was the victim of a smear campaign.
He pledged his assistance in a probe of his family's foreign assets, but his defiance in threatening lawsuits against the media angered Egyptians who have been pressing for his trial.
After he resigned, Mubarak and his family moved to a residence in Sharm el-Sheikh. Although he is subject to a travel ban, his relative freedom has been a thorn in the side of the military rulers.
Weekly protests demanding his trial have attracted tens of thousands and eventually led to a deadly clash with soldiers early Saturday after they tried to clear an overnight demonstration in Cairo's Tahrir Square.
The military acknowledged that one person died from a gunshot wound but denied it used force or live ammunition to disperse the protesters.
Idolised as a saviour at the beginning of the revolt because it refused to crack down on protesters, the army has faced increasing criticism for stalling on reforms, not putting Mubarak in the dock and alleged human rights abuses.