President Hosni Mubarak held onto power Monday, defying a popular uprising against his autocratic rule, after the government opened talks with opposition groups to resolve Egypt's deepest crisis in 30 years.
As the uprising entered a 14th day, central Cairo's Tahrir Square was still filled with anti-regime protesters adamant that the start of dialogue with opposition groups would not divert their campaign to unseat Mubarak.
US President Barack Obama said Egypt had changed forever and called for a "representative government" but stopped short of calling on Mubarak, an old US ally, to quit immediately.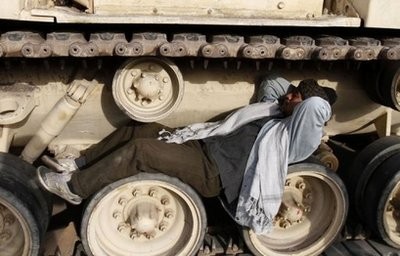 An Egyptian anti-government demonstrator sleeps on the wheels of a military vehicle at Cairo's Tahrir square on February 6, 2011
Pressed on the timing of Mubarak's exit, Obama told Fox television on Sunday: "Only he knows what he's going to do. Here's what we know is that Egypt is not going to go back to what it was.
"He's not running for re-election. His term is up this year," he added.
Vice President Omar Suleiman on Sunday held talks with opposition groups, including the banned but influential Muslim Brotherhood, but there was no immediate breakthrough in the standoff.
Government spokesman Magdi Radi said the parties had agreed to form a committee of judges and politicians "to study and propose constitutional amendments and required legislative amendments... by the first week of March".
Negotiators also agreed to open an office for complaints about the treatment of political prisoners, loosen media curbs, lift an emergency law "depending on the security situation," and reject foreign interference.
But Suleiman refused another key demand of the opposition, saying he would not assume Mubarak's powers and rule in his place during the transition.
Not all of the opposition movements involved in the revolt against Mubarak's rule were present at the talks. Former UN nuclear watchdog head and leading dissident Mohamed ElBaradei was not invited.
Mahmud Ezzat, the Brotherhood's number two leader, told AFP by telephone that the group had not pulled out of the talks because it felt it had made progress, but warned that street protests would continue.
He argued that the regime, by sitting down with the opposition, had tacitly "admitted that this is a popular revolution and its demands are legitimate. And one of our demands is that the president must leave."
As to whether Mubarak would step down, Ezzat said: "That hinges on popular pressure, and we support the popular pressure. It must continue."
Another senior Brotherhood figure, Essam al-Erian, told reporters: "They didn't respond to most of our demands. They only responded to some of our demands, but in a superficial way."
Some of the undaunted protesters celebrated Christian prayers in the central Cairo square, the epicentre and symbol of the revolt, in memory of the estimated 300 people killed since demonstrations against Mubarak broke out.
ElBaradei, who returned to Egypt shortly after the anti-Mubarak protests began and has joined demonstrations calling for the president's ouster, meanwhile said the fledgling negotiations lacked credibility as they were being managed by Mubarak and the military.
"The process is opaque. Nobody knows who is talking to whom at this stage," he told NBC, pointing to the "huge lack of confidence" between demonstrators and the government.
"If you really want to build confidence, you need to engage the rest of the Egyptian people -- the civilians."
Mubarak has thus far refused demands to step down immediately.
While he insists that he is "fed up" with leadership, he has said he feels he must stay on until a promised September presidential election in order to ensure stability.
Spain's foreign minister said the election should be brought forward.
Egypt "could find a way to answer the legitimate aspirations of the citizens, if the authorities made a gesture and brought forward to the month of June the elections scheduled for September", Trinidad Jimenez told Spain's El Mundo newspaper.
US Secretary of State Hillary Clinton said the timing of Mubarak's exit depended on the Egyptian people but underscored that an early date could lead to complications.
"As I understand the constitution, if the president were to resign, he would be succeeded by the speaker of the house, and presidential elections would have to be held in 60 days," she said.
Clinton said she had heard a leader from the Muslim Brotherhood as well as leading dissident ElBaradei say "it's going to take time" to organise polls, adding: "That's not us saying it. It's them saying it."