Egypt's President Hosni Mubarak urged Israel to halt "all settlement activity" and warned of the dangers it posed in Jerusalem, in talks with Israeli Prime Minister Benjamin Netanyahu in Cairo on Sunday.
Mubarak "called on Israel to stop all settlement activity, including 'natural growth' settlements," presidential spokesman Suleiman Awad said amid renewed US-driven efforts to kick-start the stalled Middle East peace process.
The president "also urged (Israel) to stop attempts to judaise Jerusalem, warning of the dangerous consequences to peace efforts and highlighting the sensitivity of the Jerusalem issue to the Arab and Islamic worlds," Awad said.
Netanyahu met Mubarak over "iftar," the meal ending the dawn-to-dusk fast during the Muslim holy month of Ramadan that was also attended by Egypt's intelligence supremo Omar Suleiman, before returning to Jerusalem.
His brief visit came amid a renewed diplomatic push for peace as US Middle East envoy George Mitchell visited Israel.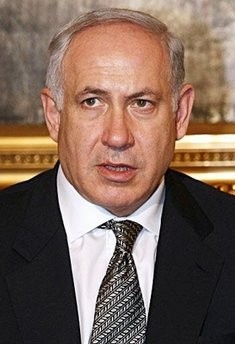 Israeli Prime Minister Benjamin Netanyahu.
Mubarak "called for negotiations on the final borders of a Palestinian state which would pave the way for an agreement on all final status issues, within a defined time frame," Awad said.
Both sides remain deeply divided on the most sensitive issues of their decades-old conflict -- final borders, the status of Jerusalem and the fate of Palestinian refugees and Jewish settlements.
"I hope that we will succeed in reducing the gaps," Netanyahu said at the weekly cabinet meeting in Jerusalem earlier on Sunday. "Maybe we will bridge them, so that we can move the process forward."
Egypt and the United States hope to see a resumption of negotiations between Israel and the Palestinians, suspended since the conflict in the Gaza Strip at the turn of the year.
Washington has sought to fast-track a peace process that would lead to the creation of a Palestinian state alongside Israel.
But both sides have rebuffed the US call for goodwill gestures that would see a freeze to settlement construction in return for Arab states beginning to normalise ties with Israel.
Arab countries have said normalisation will only come after substantive peace talks or a settlement to the conflict, and Palestinian president Mahmud Abbas insists he will not meet Netanyahu before a complete end to settlement construction.
Prince Turki al-Faisal, Saudi Arabia's former ambassador to Washington, on Sunday said in a New York Times article that Riyadh must refuse to engage Israel until it releases its "grip on Arab lands."
He called for the "immediate removal of all Israeli settlements" and an end to the occupation of Arab land.
Earlier this month, Netanyahu authorised the construction of 455 new homes in settlements in the occupied West Bank.
Washington criticised the move as "inconsistent" with the peace process, but has also said it does not consider a settlement freeze a condition for revived peace talks.
In Jerusalem, Mitchell said Washington shared a "sense of urgency" and was aiming to reach agreement on any outstanding issues during his trip.
"It is our intention to conclude this phase of our discussions in the very near future... (to) enable us to move on to the next and really the more important phase," he said after meeting President Shimon Peres.
The outcome of Mitchell's talks in Israel is likely to determine whether a proposed three-way meeting takes place between Netanyahu, Abbas and US President Barack Obama on the sidelines of the UN General Assembly.
Mitchell was to meet Netanyahu on Monday and Abbas on Tuesday. It was not clear whether he would visit other regional countries.
In addition to the peace process, Egypt and Germany have been brokering indirect talks on a prisoner exchange between Israel and the Islamist Hamas movement which rules Gaza that would see the release of Israeli soldier Gilad Shalit, seized by militants more than three years ago.
Cairo has also been mediating between rival Palestinian factions Fatah in the West Bank, and Hamas.
Egypt has been Israel's main Arab interlocutor since the two signed a peace treaty in 1979, but they remain at odds over the peace process.
Palestinian officials said that Egypt last week presented a new proposal to Fatah and Hamas, suggesting elections in mid-2010 and overhauling the structure of security services.