BOGOTA, Dec 23, 2009 (AFP) - The son of a Colombian governor killed after the highest-profile abduction of President Alvaro Uribe's tenure said Wednesday his father was likely murdered because he refused to walk for his kidnappers.
Uribe blamed the killing on members of the leftist Revolutionary Armed Forces of Colombia (FARC), which holds hundreds of hostages and often takes them on long hikes deep into the Amazon rainforest to avoid government forces.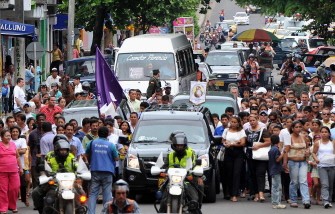 Locals walk in procession during Colombia's Caqueta Governor Luis Cuellar funeral on December 23, 2009.(AFP photo)
Luis Francisco Cuellar, a 69-year-old cattle rancher, was the first governor to be kidnapped since Uribe took office in 2002, promising a "safe democracy" and a hardline crackdown on armed rebel groups.
Farmers in Cuellar's province of Caqueta, a known rebel stronghold, discovered his body Tuesday near the charred remains of a car from which he was kidnapped. His throat had been slit.
Cuellar's son said his father, who had been suffering from severe knee pains after four previous abductions dating back to before his governorship, had told him he would refuse to walk if kidnapped again.
"When he returned, he told me: 'If they take me again, I won't walk. Whatever happens, I won't walk for them," Luis Fernando Cuellar told Colombian radio networks.
"I believe that my father firmly refused to walk and that's why they decided to murder him."
A timeline for the murder by forensic experts appears to back Cuellar's son theory. An official close to the investigation told AFP that Cuellar was murdered at 11:00 pm, Monday, one hour after he was kidnapped from his home.
"The cowards slit his throat," Uribe told shocked Colombians in a nationally broadcast speech late Tuesday.
"As law enforcement was in hot pursuit, the terrorists, most likely to avoid firing shots, went ahead and slit the governor's throat," he said.
The president slammed the FARC for offering to release two captive soldiers at the same time they were kidnapping Cuellar, and urged the international community to consider them "terrorists."
Colombian officials say it was a FARC unit late Monday that raided Cuellar's residence in the southern city of Florencia and exchanged gunfire with security guards before kidnapping the governor.
The rebels did not immediately confirm or deny Cuellar's killing. The group is often automatically blamed for such incidents before evidence of its involvement can be confirmed.
Senior FARC leaders have been hit hard by government strikes over the past years, so it is also unclear how much control they have over their disparate units.
The murder also dimmed hopes that the FARC, Latin America's oldest and largest insurgent group, will unilaterally release two of their hostages -- army sergeant Pablo Emilio Moncayo and corporal Livio Jose Martinez, both kidnapped in December 1997 -- as it had vowed to do in April.
Human rights groups expressed orror at Cuellar's abduction and murder.
"Civilians in Colombia should not be forced to be part of this conflict," said Marcelo Pollack, a Colombia researcher for Amnesty International.
"We strongly urge all guerrilla groups to release those kidnapped and on the government to investigate all human rights abuses being committed in the country."
"With this savage crime," said Jose Miguel Vivanco at the Washington-based Human Rights Watch, "the FARC is once again showing its ruthlessness and complete disregard for the laws of war and the well-being of civilians."
In Paris, the International Federation of Human Rights (FIDH) condemned the governor's "brutal" abduction and murder.
The United States issued a statement through its embassy in Bogota saying it was shocked and deeply saddened by Cuellar's murder and such repugnant acts of violence. It said it will continue supporting Colombia's war on drug traffickers and terrorists.
Uribe has rejected a political dialogue with FARC, which has battled the government in Bogota for 45 years and is seeking to swap its highest profile prisoners for some 500 guerrillas in government jails.
Last year, several FARC hostages were rescued from their jungle captivity, including French-Colombian politician Ingrid Betancourt and three US contractors.
Many FARC units, which operate semi-autonomously, are also involved in the illicit drug trade.
The late governor's body was put on display Wednesday at Caqueta's Legislative Assembly in Florencia, where thousands of mourners lined up to present their condolences.
Funeral and burial services will take place Thursday in Bogota.