Pakistan President Pervez Musharraf was to appeal for calm and national unity Wednesday after the assassination of Benazir Bhutto, with a delay in elections due to be announced later in the day.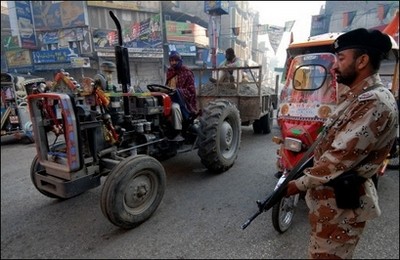 A Pakistani soldier stands guard in the home town of slain former premier Benazir Bhutto, in Larkana, 02 January 2008 (Photo: AFP)
Bhutto's opposition party and others oppose a postponement but with dozens of election offices wrecked in the unrest that convulsed the nation after her killing, election officials say a delay until February is needed.

Officials said the embattled president would address the nation on state television, trying to draw a line under a week of turmoil that killed nearly 60 people, fuelled in part by disbelief over the explanation of how she died.

"President Musharraf will highlight the need for unity in the nation after the tragic death of Benazir Bhutto, and how terrorists are trying to undermine the country's security," a senior official who could not be named told AFP.

The government blamed an alleged Al-Qaeda militant for orchestrating the gun and suicide attack at a Bhutto election rally last Thursday, but said the shooter missed -- and that she died banging her head on her car sunroof.

Videos of the attack have cast doubt on the official version, while Bhutto aides, some of whom have angrily charged Musharraf is to blame for at least not providing adequate security, say bullet wounds were seen on her body.

"There is no intention to conceal anything from the people of Pakistan," the interior ministry said in a statement on Tuesday.

But Musharraf has faced calls from Bhutto's party as well as some political figures in the United States, which counts the president as a crucial ally in the "war on terror", for an international investigation.

It was not immediately known if he would comment on those calls in his speech. Government officials have rejected an international inquiry but have kept the door open for possible foreign help in their own probe.

"He will speak on the current situation in the country," the president's official spokesman, Major General Rashid Qureshi, told AFP. The speech was to be broadcast at 1500 GMT.

Bhutto returned home from eight years of exile in October to contest the parliamentary election, and her party as well as other opposition parties have said they will not accept a delay in the vote.

Every recent election in Pakistan, the world's only nuclear-armed Islamic nation, has been marred by allegations of fraud, and Bhutto's party charged Tuesday that any delay was a ruse to give Musharraf's allies time to rig the vote.

The election commission has said preparations have been "adversely affected" by the security situation after Bhutto's assassination.

It said voter lists were lost in attacks on some election offices and that staff had trouble getting to work, with petrol stations closed and security uncertain during three days of mourning for Bhutto that ended Sunday night.

Election commission spokesman Kanwar Dilshad said vote negotiations had taken into account Moharram, one of the most sacred months in the Islamic calendar, which runs from around January 10 to February 8.

Opposition parties charge that the election commission has been stacked with Musharraf supporters, and that the interim government named to run the country in the run-up to the election is also pro-Musharraf.

The United States, which views Pakistan as essential in the global fight against Al-Qaeda and Taliban extremists, said a delay would be acceptable if the major political parties approved.

Following Bhutto's assassination, the leadership of her Pakistan People's Party was passed to her 19-year-old son Bilawal, an Oxford University student.

Airport officials said he flew out of the country on Tuesday afternoon. Bhutto's husband Asif Ali Zardari, named party co-chair, will be in effective control of the party until Bilawal finishes his studies.