Armed groups that have not signed the Nationwide Ceasefire Accord (NCA) in Myanmar have raised an eight-point proposal to the government for finding ways to sign the NCA and join the 21 st Century Panglong Ethnic Conference planned for the end of this month, according to source from Vietnam News said yesterday.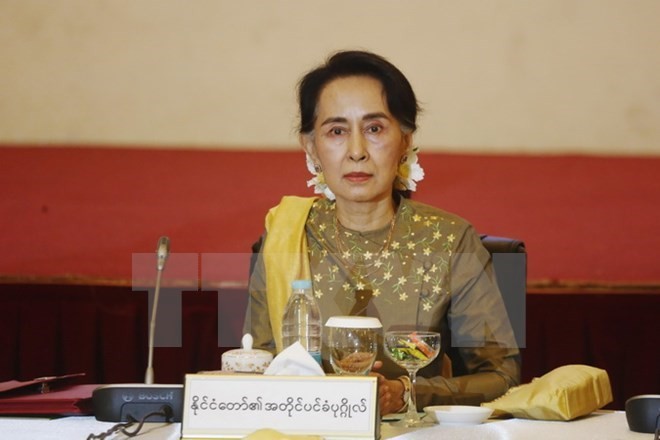 Myanmar's State Counsellor Aung San Suu Kyi (Source: VNA)
The non-signatory armed groups are represented by the United Nationalities Federal Council (UNFC)'s Delegation for Political Negotiation (DPN).
Discussions on the undisclosed proposal were underway between the government's Preparatory Committee for Holding the 21st Century Panglong Conference and the DPN in Yangon's National Reconciliation and Peace Centre on August 20, according to the centre.
Chairman of the Preparatory Committee for Holding the Panglong Conference Tin Myo Win described the talks as productive enough to facilitate the peace process, while DPN's second leader Guan Maw called the discussions constructive, pledging to do their best and find the common ground to join the conference.
Many sources said the Union Peace Dialogue Joint Committee (UPDJC), ethnic armed groups and the committee will continue discussing the political framework at the peace centre on August 21.
Myanmar's State Counsellor Aung San Suu Kyi, who is also UPDJC Chairwoman, called for mutual trust and unity to successfully hold the upcoming conference.
The former Myanmar government and eight ethnic armed groups out of 15 signed the NCA on Oct 15, 2015, leaving seven other armed groups who are yet to sign the accord.-