Myanmar voted Sunday in its first election in 20 years as mounting complaints of fraud added to fears the poll was a sham to create a facade of democracy after decades of iron-fisted military rule.
Democracy icon Aung San Suu Kyi remained locked up and two pro-junta parties were together fielding about two-thirds of the total candidates, leaving the splintered opposition with little chance of success.
Nobel Peace Prize winner Suu Kyi swept her party to power in 1990 but the result was never recognised by the ruling generals. She has been detained for most of the past 20 years and is supporting a boycott of Sunday's election.
Even before polls closed, US President Barack Obama said the vote would be "anything but free and fair".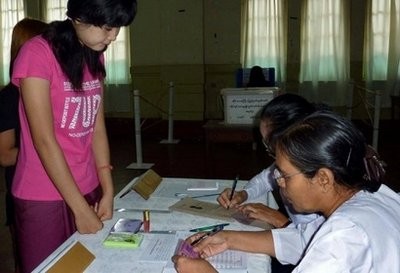 A Myanmar voter (L) has her documents checked by officials before casting her vote.
"For too long the people of Burma have been denied the right to determine their own destiny," he said during a visit to India, using the country's former name.
Yet while conditions for the election have been widely criticised, some see the vote as a small step towards democracy after almost five decades of autocratic rule, with opposition parties set to finally get a voice in parliament.
Despite the generals' unpopularity, their political proxy, the Union Solidarity and Development Party (USDP), was widely expected to win, helped by huge financial and campaigning advantages as well as a climate of fear.
"They have many layers of cheating and irregularity," said Somsri Han-Anuntasuk, from the Asian Network for Free Elections, a civil society organisation that was monitoring the vote through its contacts in Myanmar.
In many constituencies the poll was a two-horse race between the USDP and the National Unity Party (NUP), which is the successor to late dictator Ne Win's party and is also closely aligned with the military.
A quarter of the seats in the two-chamber national parliament and regional legislatures are reserved for military appointees whatever the outcome. It is unclear when the results will be announced.
Two opposition parties accused the USDP -- formed by ministers who retired from the military in April -- of illegally collecting advance ballots.
Democratic Party chairman Thu Wai told AFP on Friday that his party was "deeply concerned" about reports of voter intimidation across the country.
The National Democratic Force, created by former members of Suu Kyi's disbanded party, said some people had complained they had been told by the USDP that their ballots had been collected already so there was no need to vote.
But NDF leader Khin Maung Swe said his party was optimistic about its prospects in those areas where it is standing, with queues forming at some polling stations.
"I heard they voted mostly for the bamboo hat," he said, referring to his party's logo.
"I think people wanted to vote as they haven't voted for a long time."
The junta has refused to allow international monitors or foreign media into the country for the election, and local journalists face strict restrictions on visiting polling stations unless on an official tour.
"I just voted but there was a power blackout so I couldn't see well. I voted for the lion (USDP) as well as the paddy (NUP)," said 56-year-old Hla Hla Yi, referring to the parties' logos.
The NUP is the wild card in the poll and could hold the balance of power in parliament, but it remains unclear whether it is a genuine rival to the USDP or just another proxy of the military regime.
More than 29 million people were eligible to vote but it was uncertain how many would actually cast ballots, with many in the impoverished nation apathetic and disillusioned about the process.
"I don't know about any of the parties. I will vote how my mother tells me," said Myo Zaw, a 22-year-old newspaper delivery man.
The intentions of junta chief Than Shwe remain shrouded in mystery. There has been speculation that he may step down as commander-in-chief of the armed forces, but few expect him to relinquish real power.
"We have no doubt of the overall outcome of the election. It was designed from the outset to re-elect the regime," Ron Hoffmann, Canada's ambassador to Thailand, told AFP in Bangkok.
The junta has said that Suu Kyi may be freed after the poll, as it attempts to deflect a barrage of criticism. The 65-year-old is just one of about 2,200 political prisoners in the autocratic nation.