HONG KONG, Dec 30, 2009 (AFP) - As hundreds of thousands of people prepare to gather for New Year's Eve, Hong Kong police are on high alert as fears grow that a mysterious acid attacker terrorising the city will strike again.
As many as 2,000 officers are fanning out across Hong Kong's busiest districts in a bid to instill calm among the half a million people expected to congregate at outdoor celebrations on December 31.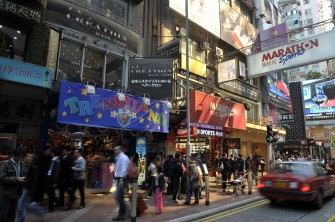 Pedestrians cross a street that was the site of a recent acid attack when a bottle holding corrosive liquid was thrown from a height, in Causeway Bay in Hong Kong on December 22, 2009. The recent acid attack was one of a number of such attacks that have occured in busy shopping areas in Hong Kong. AFP PHOTO
The countdown will be punctuated by a massive fireworks display set against the city's famous Victoria harbour, with many party goers descending on Causeway Bay. The busy shopping district was the scene of a December 12 attack that left six people injured, two of them seriously.
"It's scary," said Stephanie, a 29-year-old office worker, as she walked through the shopping district. "You just don't know when or where it could happen next."
Six unsolved attacks over the past year have left more than 100 people injured -- some sustaining serious burns to their face and body -- and shocked a city known for its low crime rate.
"Hong Kong's reputation as a safe city is threatened and the more it is eroded, the greater will be the personal and economic cost," the English-language South China Morning Post said in a recent editorial.
"It is time for whoever knows who is behind these vicious crimes to end the mindless game by contacting police."
Baffled police have offered rewards totalling almost 200,000 US dollars for information that will end the cat-and-mouse hunt. But the race to catch the culprit -- or culprits -- has not yielded a single arrest.
A popular computer exhibition has switched venues over fears of another attack during the holidays while mounting concern has generated calls for more CCTV cameras in public areas.
Authorities are also telling landlords to beef up building security.
That order is tied to the pattern of attacks which has seen bottles of acid hurled from the rooftop of old buildings on to unsuspecting pedestrians below.
"Relying on the police alone is not enough," Paul Lau, a senior police superintendent, told reporters recently.
"It is also important to rely on building management to pay more attention."
Hong Kong Chief Executive Donald Tsang condemned the latest incident as he toured Causeway Bay earlier this month, while letters to the city's newspapers described the attacks as "evil".
The first incident took place on December 13 last year, when 46 people suffered acid burns in Mongkok, one of the most densely populated neighbourhoods in the world.
Police will not speculate on whether one or more people are involved.
"We do not know if it is a single attacker or more than one," a police spokeswoman told AFP.
"The investigation is continuing... (We) are very concerned about these cases because they involve public safety."
Some experts think a male between 20 and 50, unemployed or in a low-end job, is behind most -- if not all -- of the attacks.
"The offender is probably a lonely, frustrated person who wants to do something that will get noticed so he'll feel like he is living," said Dennis Wong, a criminologist at City University of Hong Kong.
The assailant is also quick enough to strike and then disappear into the city of seven million unnoticed, he added.
"This guy isn't old -- he moves around very fast," Wong said. "These are very popular shopping areas so he doesn't have to target anyone in particular. He can easily hit people."
The mystery assailant's garden-variety acid is often used as a heavy-duty cleaner which can be picked up in many stores, Wong said.
"If the police stop him he could just tell them he needs it for cleaning."
Even with more cameras and better security in old buildings, it will be tough to catch the mystery attacker, Wong said.
"It's not easy to catch such a guy in a big city -- there are so many old buildings in Hong Kong. They may have to wait for him to make a mistake."
And Wong predicts there will be more attacks in the coming months.
"He is addicted to it now and gets excited playing games with law enforcement."