North Korea and the United States will resume talks next month on recovering the remains of US troops killed during the 1950-53 Korean War, South Korean media reports said Friday.
The reports, if confirmed, would suggest an easing of relations amid diplomatic efforts to restart nuclear disarmament negotiations.
Arrangements "have been recently finalised" between Pyongyang and Washington to resume talks on excavating and repatriating remains of US soldiers from the North, Yonhap news agency quoted a Seoul foreign ministry official as saying.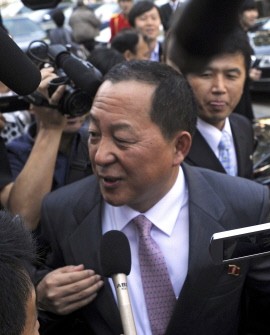 North Korea's chief nuclear envoy Ri Yong-Ho is mobbed by the media as he leaves after a meeting with his South Korean counterpart Wi Sung-Lac in Beijing on September 21, 2011.
JoongAng Ilbo newspaper earlier carried a similar report. The ministry declined to comment.
The unidentified official said the talks might take place in the Malaysian capital Kuala Lumpur, where the two sides had met on the issue previously.
The US Department of Defense says 8,031 Americans are unaccounted for in North and South Korea following the 1950-53 conflict, in which the United States led a United Nations force fighting alongside the South.
Joint US-North Korean search teams, in 33 missions in the North from 1996-2005, recovered the probable remains of 229 of them.
But cooperation stopped in 2005 when the United States voiced concerns for the safety of its personnel as relations worsened over North Korea's nuclear programme.
Diplomatic efforts are underway to restart long-stalled six-nation talks on ending the North's nuclear programme. On Wednesday the chief nuclear negotiators from the two Koreas held a second round of talks in Beijing.
A media report said the US and North Korea are also seeking to hold a second round of talks early next month aimed at reopening the six-party forum.
The North has long sought to sign a peace treaty with the United States to formally end the war, which finished with only an armistice.
Washington says the issue should be discussed in the context of the six-party nuclear talks.