WASHINGTON, Aug 18, 2009 (AFP) - New Mexico Governor Bill Richardson will meet Wednesday with two North Korean diplomats, his office said, amid signs of a thaw following a visit to Pyongyang by former US president Bill Clinton.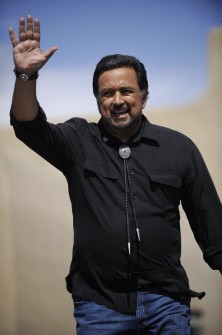 This September 18, 2008 file photo shows New Mexico Governor Bill Richardson waving as he arrives at Plaza de Espanola in Espanola, New Mexico (AFP photo)
"The governor will meet tomorrow in Santa Fe with a delegation from the North Korean mission to the United Nations," Richardson spokeswoman Alarie Ray-Garcia told AFP.
She said Kim Myong-Gil, a North Korean delegate to the United Nations, had requested the meeting, which will take place for "most of the day." The senior North Korean diplomat was to attend the talks with a deputy.
Ray-Garcia recalled that Richardson, who traveled twice to the hermit state in the 1990s to secure the release of US prisoners, has met with diplomats from the North Korean UN mission before in Santa Fe, in 2004 and 2006.
But she stressed that "the governor will not be negotiating with them in any way and is not representing the Obama administration."
Ray-Garcia declined to provide details of the agenda but noted that the North Korean delegation has expressed interest in clean energy solutions being developed in New Mexico.
The meeting comes after Clinton briefed President Barack Obama Tuesday on his talks with North Korean leader Kim Jong-Il earlier this month during a high-stakes and ultimately successful mission to free two US journalists held in Pyongyang.
The White House has insisted that the former president's visit that freed Euna Lee and Laura Ling was a purely private affair, and denied Clinton delivered a message from Obama as Washington seeks ways to cool the showdown over Pyongyang's nuclear and missile programs.
That exchange amounted to the highest level US contact with the North Korean leadership since Pyongyang abandoned six-party talks on its nuclear program, tested a long range missile and conducted a nuclear test.
The North has also warmed in recent days to its southern neighbor after months of hostility, making a surprise offer to relaunch cross-border tours and allow reunions of families divided for decades in the wake of the 1950-53 Korean War.
N. Korea, which has abandoned six-party talks that included the United States and South Korea over its nuclear program, announced Monday it reached agreement with a visiting Seoul business leader to relaunch tours that have earned it tens of millions of dollars over the years.
Disclosing the deal with Hyundai Asan, which operates inter-Korean business ventures, the North said tours to the scenic Mount Kumgang east coast resort and to historic Kaesong city near the west coast would resume as soon as possible.
The North has also freed a South Korean Hyundai engineer and agreed to ease border restrictions that hampered operations at the Seoul-funded Kaesong industrial estate.
The release of Yu Seong-jin was the North's first conciliatory gesture to the South since ties soured after Seoul's current conservative government took office in February 2008.