North Korean leader Kim Jong-Il arrived in China on Thursday, official media from both countries said, in unusually open reporting of Kim's latest visit to his cash-strapped country's chief ally.
China's state Xinhua news agency described it as a "stopover" but the foreign ministry in Beijing refused to reveal if Kim would meet Chinese officials or if he was only transiting on his return home from Russia.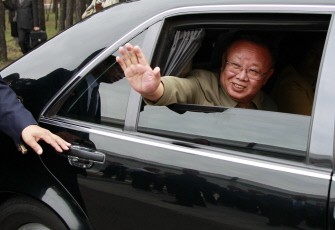 North Korea's leader Kim Jong-Il waves his hand from a car after the meeting with Russian President dmitry Medvedev at Sosnovy Bor Military Garrison, Zaigrayevsky District, Buryatia outside Ulan-Ude on August 24, 2011
North Korea's official Korean Central News Agency (KCNA) confirmed Kim "will pay a visit to the northeast area of the People's Republic of China on August 25 on his way home", but offered no more details.
Previous visits by Kim to China have been shrouded in secrecy and only officially confirmed by either side after his departure.
South Korea's Yonhap news agency, quoting sources, said that the train carrying the North Korean leader was spotted at a Chinese railway station on Thursday.
It said that the decision to cross Chinese territory may be a move to shorten Kim's train ride back to his impoverished country, which relies heavily on its neighbour and communist ally for survival.
Kim -- known for shunning air travel and taking extraordinary security measures -- crossed into China's northeastern Heilongjiang province by train at the border city of Manzhouli, Xinhua said.
It is Kim's first visit to the country since May, when he told Chinese President Hu Jintao that he remained committed to the denuclearisation of the Korean peninsula and hoped six-party nuclear disarmament talks would resume.
On Wednesday, Kim held his first summit with Russian President Dmitry Medvedev at a Siberian garrison near the traditionally Buddhist city of Ulan-Ude, and again voiced hopes for the resumption of the six-way talks.
The summit ended with a Kremlin announcement that North Korea was ready to resume dialogue without preconditions and abandon atomic enrichment and testing once the six-party talks restarted.
But both the United States and South Korea -- who along with China and Japan make up the other six countries involved in the process -- dismissed the proposal as nothing new.
"If it's true, (it's a) welcome first step, but far from enough... to resume the six-party talks," US State Department spokeswoman Victoria Nuland told reporters.
South Korean officials demanded that the North abandon its nuclear programme before assuming negotiations on the potential lifting of sanctions and provision of international aid for its neighbour.
"I don't see any particular progress," deputy spokesman Shin Maeng-Ho of the South's foreign ministry told AFP.
Another Seoul government source told Yonhap that the Kim-Medvedev meeting "fell short of expectations".
Moscow's Kommersant business daily noted simply that Medvedev "failed to reach a global breakthrough on North Korea."
Moscow's influence over Pyongyang has waned considerably since the end of the Soviet era and Kim's visits to China have become much more frequent than those to Russia -- a country he last travelled to in 2002.
Medvedev said he was "full of positive feelings" after meeting Kim and optimistic that the two sides were making progress on the construction of a key pipeline through North Korea to the South.
"As far as I understand, North Korea is interested in the implementation of such a trilateral project with the participation of Russia and South Korea," Medvedev said.
The gas link would provide Russia with broader access to the booming South Korean energy market and have the potential of uniting the two peninsula neighbours behind a single project at a time of flaring tensions.
But some in Russia questioned whether the pipeline was feasible considering the level of global distrust of the North Korean regime.
"From the standpoint of (gas) supply security, this project is madness for Russia at the moment," the Vedomosti business daily wrote in an editorial.
The idea that the project should help build trust between the two Koreas "is beautiful but very risky and requires serious sponsorship from the Russian people," the paper said.