Nagasaki's mayor, marking the 64th anniversary of his city's atomic bombing by the United States, called Sunday on the leaders of nuclear-armed powers to visit the site and build a nuclear-free world.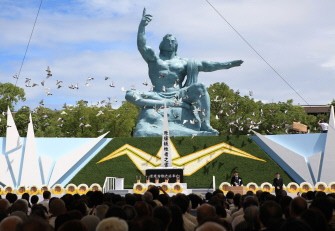 Doves fly around the peace statue at the peace memorial park after being released for the 64th memorial ceremony for atomic bomb victims in Nagasaki, in western Japan on August 9, 2009 as the city marks the 64th anniversary of the atomic bombing.
Tomihisa Tanoue urged world leaders from both declared nuclear powers and others such as Iran, Israel and North Korea to visit the city in southwestern Japan.
"I am sure anyone who visits here would feel the sorrow of the victims and be shaken by it," the mayor said in an address at an annual ceremony commemorating the 1945 bombing.
A minute of silence was observed at 11:02 am (0202 GMT), when the US bomb exploded above the city, killing roughly 74,000 people. The bombing followed one a week before in Hiroshima and hastened Japan's surrender in World War II.
Tanoue said an April speech by US President Barack Obama in Prague, where Obama pledged to build a world with no nuclear weapons, "impressed" the residents of Nagasaki.
"The Japanese government must support the Prague speech. As a nation that has come under nuclear attack, Japan must lead the international community" in abolishing the weapons, he said.
Similar appeals were made Thursday when Hiroshima marked the anniversary of its bombing, which killed 140,000 people.
At the Nagasaki ceremony, Prime Minister Taro Aso reiterated the Japanese government's anti-nuclear stance, three weeks ahead of national elections that he is tipped to lose.
Aso raised eyebrows at the Hiroshima ceremony, when he pledged to work toward abolishing nuclear weapons but later told reporters that he thought it was "unimaginable" to attain a nuclear-free world.