Napa Valley wine makers on Monday toasted a 2009 grape harvest brimming with "outstanding fruit that looks and tastes to be a spectacular vintage."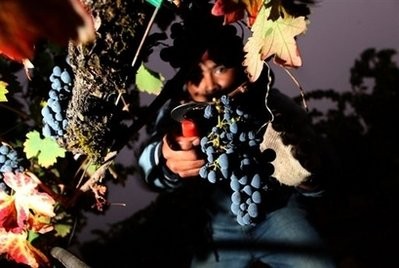 Vineyard worker Jose Pacheco uses a knife to cut zinfandel grapes from a vine at Tres Sabores Winery.
The Napa Valley Vintners non-profit trade association, which represents 370 wineries in the renowned Northern California appellation, issued the season's grape report to kick-off a week of harvest celebration in San Francisco.
"This has been a phenomenal year in the vineyard and in the cellar," said Doug Shafer of Shafer Vineyards.
"We are rocking and rolling, having a great time making wine in the Napa Valley."
The pace of the harvest has been slow and steady, with no intense hot spells or early rains requiring a rush to pick fruit, according to Shafer.
"This harvest was drama-free," agreed Honig Vineyards winemaker Kristin Belair.
"There has been nothing forcing the picking decision, so it just means lots of sampling and mulling things over, checking out the moon phase or my horoscope."
Initial reports indicate vintners and grape growers throughout Napa Valley are "delighted with 2009 from Albarino to Zinfandel and everything in between."
"We got to make wine this year with a lot less stress and a lot more love in the air," said Judd Finkelstein of Judd's Hill winery.