A "significant amount" of frozen water has been found on the moon, the US space agency said Friday heralding a giant leap forward in space exploration and boosting hopes of a permanent lunar base.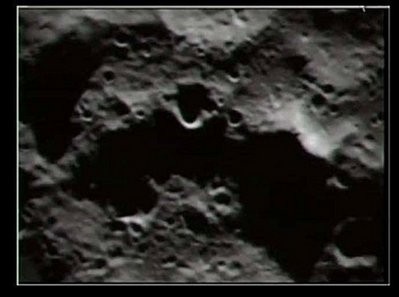 This image obtained from NASA shows the surface of the Moon as the Lunar Crater Observation and Sensing Satellite (LCROSS) approached it on October 9, 2009. (AFP Photo)
Preliminary data from a dramatic experiment on the moon "indicates the mission successfully uncovered water in a permanently shadowed lunar crater," NASA said in a statement.
"The discovery opens a new chapter in our understanding of the moon," it added, as ecstatic scientists celebrated the landmark discovery.
"Yes indeed we found water and we did not find only a little bit but a significant amount," said Anthony Colaprete, project scientist and principal investigator for the 79-million-dollar LCROSS mission.
The data was found after NASA sent two spacecraft crashing into the lunar surface last month to probe Earth's nearest neighbor for water.
One rocket slammed into the Cabeus crater, near the lunar southern pole, at around 5,600 miles (9,000 kilometers) per hour.
The rocket was followed four minutes later by a spacecraft equipped with cameras to record the initial impact, which sent a huge plume of material billowing up from the bottom of the crater, untouched by sunlight for billions of years.
"In the 20- to 30-meter (66- to 100-foot) crater we found maybe about a dozen, at least, two-gallon buckets of water. This is an initial result," Colaprete told reporters.
"We are ecstatic," he added in a statement.
"Multiple lines of evidence show water was present in both the high angle vapor plume and the ejecta curtain created by the LCROSS Centaur impact.
"The concentration and distribution of water and other substances requires further analysis, but it is safe to say Cabeus holds water," Colaprete said.
Peter Schultz, professor of geological sciences at Brown University and a co-investigator on the LCROSS mission, expressed hope that more water could be found on the moon.
"What's really exciting is we've only hit one spot," Schultz said.
"It's kind of like when you're drilling for oil. Once you find it one place, there's a greater chance you'll find more nearby."
Scientists had previously theorized that, except for the possibility of ice at the bottom of craters, the moon was totally dry.
Finding water on Earth's natural satellite is a major breakthrough in space exploration.
"It's very exciting, it is painting a new image of the moon," said Gregory Deloy of the University of California, hailing it as "an extraordinary discovery."
He theorized that "one of the possible source of water is a comet."
"We're unlocking the mysteries of our nearest neighbor and, by extension, the solar system," said Michael Wargo, chief lunar scientist at NASA headquarters in Washington.
"The full understanding of the LCROSS data may take some time. The data is that rich," Colaprete cautioned.
"Along with the water in Cabeus, there are hints of other intriguing substances. The permanently shadowed regions of the moon are truly cold traps, collecting and preserving material over billions of years."
Only 12 men, all Americans, have ever walked on the moon, and the last to set foot there were in 1972, at the end of the Apollo missions.
But NASA's ambitious plans to put US astronauts back on the moon by 2020 to establish manned lunar bases for further exploration to Mars under the Constellation project are increasingly in doubt.
NASA's budget is currently too small to pay for Constellation's Orion capsule, a more advanced and spacious version of the Apollo lunar module, as well as the Ares I and Ares V launchers needed to put the craft in orbit.
A key review panel appointed by President Barack Obama said existing budgets are not large enough to fund a return mission before 2020.