The Nasdaq jumped to a 10-year high as U.S. stocks rallied on Wednesday after Fed Chairman Ben Bernanke's first-ever press conference did nothing to short-circuit investors' optimistic outlook on the economy.
All three major U.S. stock indexes extended gains after comments from Bernanke at his press conference, where he reiterated the Fed's stance that inflation was a transitory problem related largely to commodity price pressures.
The Nasdaq Composite Index closed at 2,869.88, its highest close since December 12, 2000. Among the day's leading Nasdaq gainers were retailers and biotechnology names.
The Russell 2000 Index (.TOY) hit an all-time closing high of 858.31 as investors kept buying small-caps, a sector associated with a strong outlook for economic growth.
Tom Sowanick, chief investment officer of OmniVest in Princeton, N.J., said the Federal Reserve is "inviting asset inflation" as reflected in the stock market's price action.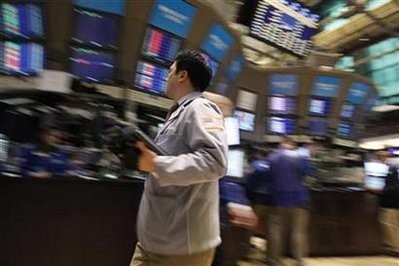 Traders work on the floor of the New York Stock Exchange, April 8, 2011
The Fed's policy-setting Federal Open Market Committee said in a statement it intends to complete its $600 billion bond buying program in June as scheduled.
At the news conference, Bernanke said there was "a bit less momentum in the economy" and he foresaw "a relatively weak number, maybe under 2 percent" for growth in gross domestic product in the first three months this year, indicating the Fed is likely to maintain its accommodative policy despite worries about inflation.
"He handled himself real well. He didn't fumble anything," said Alan Valdes, director of floor trading at DME Securities in New York. "In all honesty, I would give him a B-plus. He held himself up well. He didn't trip over any questions."
Biotech stocks helped boost the Nasdaq, as Regeneron Pharmaceuticals Inc (REGN.O) surged 28.6 percent to $67.05 after its experimental cancer drug, Zaltrap, being developed with Sanofi-Aventis (SASY.PA), extended survival in patients in a late-stage trial.
The NYSEArca biotechnology index (.BTK) gained 2.8 percent.
The Dow Jones industrial average (.DJI) gained 95.59 points, or 0.76 percent, to 12,690.96. The Standard & Poor's 500 Index (.SPX) rose 8.42 points, or 0.62 percent, to 1,355.66. The Nasdaq Composite Index (.IXIC) climbed 22.34 points, or 0.78 percent, to 2,869.88.
GE BUOYS DOW, STARBUCKS FALLS LATE
General Electric (GE.N) helped lift the Dow, rising 2.7 percent to $20.65 after the company's finance chief said GE's profit growth over the next few years will be the fastest it had seen in a decade.
Boeing Co (BA.N), Whirlpool Corp (WHR.N) and WellPoint Inc (WLP.N) also moved higher after topping analysts' consensus expectations. Boeing, also a Dow component, rose 0.8 percent to $76.12.
Whirlpool gained 0.9 percent to $88.65 and WellPoint added 3.5 percent to $75.54.
According to Thomson Reuters data through Wednesday, of the 220 companies in the S&P 500 that have reported earnings, 73 percent have posted earnings above estimates.
After the closing bell, Starbucks Corp (SBUX.O) warned that rising fuel and dairy costs will take a bigger chunk out of earnings than previously anticipated, sending shares down 1.8 percent to $36.54 in extended trade.
Volume was modest, with about 7.59 billion shares traded on the New York Stock Exchange, NYSE Amex and Nasdaq, slightly below the daily average of 7.73 billion.
Advancers outnumbered decliners by a ratio of almost 2 to 1 on the New York Stock Exchange, while on the Nasdaq, eight stocks rose for every five that fell.