LISBON, Nov 20, 2010 (AFP) - US President Barack Obama and his NATO allies agreed on Friday to shield Europe's peoples from rogue rocket attacks with a screen of interceptor missiles, and to invite Russia to take part.
The deal commits NATO members to deploy a phalanx of anti-missile batteries to shoot down incoming missiles from any future enemy and urges Moscow to link its own defensive systems to the grid.
Winning agreement on the shield also gave the NATO leaders a boost as they prepared for the second day of their Lisbon summit on Saturday, when they will try to agree a plan to end the Afghan war.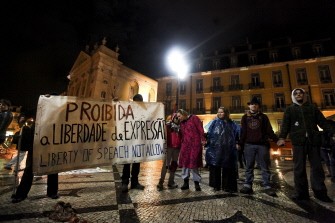 AFP - Demonstrators gather in Camoes square in dowtown Lisbon for a anti-Nato protest on November 19, 2010.
"For the first time, we have agreed to develop a missile defence capability that's strong enough to cover all NATO European territory and populations, as well as the United States," Obama said at the summit.
Russia had been fiercely critical of former US missile defence plans, seeing them as a direct threat to the credibility of its nuclear deterrent, and Moscow demanded that a previous blueprint be withdrawn.
But the 28 NATO powers hope President Dmitry Medvedev can be won over in talks with the alliance on Saturday, the first such meeting between NATO and the Kremlin chief since Moscow waged a war in Georgia in 2008.
"Rather than being an issue for conflict, it is now an issue for cooperation," said Ivo Daalder, the US ambassador to NATO.
NATO chief Anders Fogh Rasmussen said he expects Russia and the Allies to begin a joint study of how Russia could be included in the missile defence system, which would be a significant softening of Moscow's position.
In a "strategic concept" setting priorities for the next decade, NATO agreed to "develop the capability to defend our populations and territories against ballistic missile attack as a core element of our collective defence."
"We will actively seek cooperation on missile defence with Russia and other Euro-Atlantic partners," the alliance statement said. Leaders were to discuss the plan in more detail over dinner.
Obama also won support from his European allies in his showdown with the US Senate over the ratification of a key nuclear pact with Russia.
"The message that I've received since I arrived from my fellow leaders here at NATO could not be clearer: new START will strengthen our alliance and it will strengthen European security," the US leader told reporters.
Rasmussen warned that any delay "would be damaging to security in Europe."
The Strategic Arms Limitation Treaty (START) -- signed by Medvedev and Obama in April -- restricts each nation to a maximum of 1,550 deployed warheads, a cut of about 30 percent from a limit set in 2002.
The allies also enshrined in black and white Obama's ambition of ridding the world of nuclear weapons, but agreed to maintain their own arsenals as long as there are atomic bombs in the world.
Agreement on the missile shield marks a significant advance for Obama's scheme, first announced in November 2009 when he ditched plans for a missile shield in Eastern Europe, the cause of a Cold War-style row with Russia.
Obama decided to replace the shield, the brainchild of US former president George W. Bush, with a more mobile system targeting Iranian short-range and medium-range missiles, initially using sea-based interceptors.
Before leaving Moscow, the Russian party said it was keen to share ideas about common missile defence but played down the chances of a major decision realigning the continent's security.
In addition to wooing the Russians, the NATO allies have tiptoed around Turkey's concerns about its sensitive relations with neighbour Iran.
Diplomats here had been discussing publicly identifying Iran as an emerging missile threat but Turkey had refused to countenance this possibility and Tehran did not figure in the document released here.
The next challenge on the NATO agenda is Afghanistan. On Saturday, the 28 allies will join Afghan President Hamid Karzai and the 20 other members of the global military coalition supporting the war effort.
As another NATO soldier Friday fell to an Afghan bomb attack, taking the toll for the year to 654, Obama outlined a proposed timetable for pulling the bulk of US forces out from Afghanistan and handing control to local commanders.
"I look forward to working with our ... partners as we move towards a new phase, transition to Afghan responsibility, which begins in 2011, with Afghan forces taking the lead on security across Afghanistan by 2014," Obama said.
More than 2,200 Allied troops have been killed in the nine-year-old war launched by the United States after the September 11, 2001 attacks to root out Al-Qaeda leaders and overthrow their Taliban protectors.