US Secretary of State Hillary Clinton flew to Brussels Friday to nail down European backing for a troop surge in Afghanistan that commanders say should turn the tide of the war by mid-2010.
With NATO foreign ministers meeting here for key talks, European nations rallied behind the new US drive to defeat the Taliban and Al-Qaeda in Afghanistan with the war now in its ninth year.
US President Barack Obama announced Tuesday he was dispatching an extra 30,000 troops to Afghanistan -- the first marines will leave in less than two weeks -- and has called on his allies to come up with 5,000-7,000 more.
"Based on what we have heard in just the last 24 hours, I think we can confidently say that we will surpass that amount, we are beyond the 5,000 figure," NATO spokesman James Appathurai told reporters in Brussels.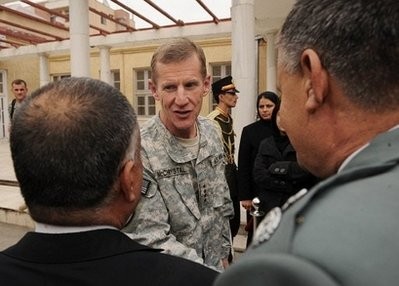 US general Stanley McChrystal (centre), the top US commander in Afghanistan, shakes hands with Afghan parliament members in Kabul.
More than 20 nations of the 43 involved in the NATO-led International Security Assistance Force (ISAF) have signaled they would increase their contribution, he said. Related article: Training key to victory in Afghanistan
Clinton told reporters traveling with her to Brussels Thursday that NATO allies would make a number of announcements over the coming days on extra troops. Related article: Clinton confident in NATO allies
"The response has been positive," she said. "I've spoken to probably 20, 25 of my counterparts over the last week. And there is an understanding about the importance of the mission that the president has described."
Italy said it would send 1,000 extra soldiers to Afghanistan next year, which the White House hailed as demonstrating "the firm resolve of NATO allies and ISAF partners to succeed in our shared Afghan mission."
Albania offered 85 more troops and Poland suggested it could send 600 more.
Germany extended for one year the mandate of its 4,300-strong contingent, the third-largest in Afghanistan after the United States and Britain, but did not increase its numbers.
France and Germany have both said they will wait until a London conference on Afghanistan on January 28 before taking further action.
General Stanley McChrystal, the top US and NATO commander in Afghanistan, had been pushing for 40,000 troops to engage in the war. Related article: European allies muster troops
He told Afghan lawmakers the extra troops would train Afghan forces, to help prepare for a transfer of security, while the rest would fan out across the south and east where the Taliban insurgency is strongest.
"I believe by next summer you will see significant improvements in security," McChrystal aid.
US Defense Secretary Robert Gates also revealed that Obama had approved the possible deployment of an extra 3,000 troops on top of the 30,000 already given marching orders. They will join some 70,000 US forces already on the ground.
Up to 3,000 medics, intelligence analysts and bomb disposal specialists would bring skills "associated with safeguarding the lives of our troops," Gates told US lawmakers, adding he hoped he would not need them.
If the pledges are met, international forces and the Afghan Army could total almost 300,000 troops by the middle of next year, around 10 times more than ISAF estimates of the number of Al-Qaeda, Taliban and other militants.
Lawmakers grilled Gates, Clinton and Chairman of the Joint Chiefs of Staff Admiral Mike Mullen for a second day over the costs of the war and the dangers of announcing a mid-2011 date for US forces to begin their withdrawal.
Obama's top ally in the House of Representatives, Speaker Nancy Pelosi, did not explicitly endorse the planned surge, saying she had asked for White House briefings for rank-and-file Democrats sharply divided on the war.
But she told reporters that "the president has spoken, the decision has been made."
NATO diplomats say the US plan has been welcomed in the corridors of the military alliance's Brussels headquarters.
But Pakistan, Afghanistan's neighbor fighting its own battle against Islamist insurgents, has not yet backed the plans.
"We are studying that new policy. We need more clarity on it," said Pakistani Prime Minister Yousuf Raza Gilani.
Pakistan media expressed alarm over talk of a withdrawal date, worrying it would embolden the Taliban. The Daily Times said it was concerned the United States would "cut and run."
Obama's approach sets a number of performance benchmarks for the Afghan government, but also insists that progress against the extremists be made, and that allies stump up funds and trainers to build the national army.
Kabul will also have to improve governance and battle corruption in order to win back the confidence of citizens following fraud-marred August elections.