Seven months after breaking ties with Russia over its invasion of Georgia, the NATO alliance is moving toward resuming formal relations.
NATO foreign ministers meeting Thursday appeared likely to decide the time is right. Such a move could boost President Barack Obama's efforts to build a stronger bond with the Russians after years of tensions during the Bush administration.
For U.S. Secretary of State Hillary Rodham Clinton, who arrived in the Belgian capital Wednesday night, the NATO meeting will be her first. She is at the midpoint of a weeklong trip that began in Egypt and took her to Israel on Tuesday and the West Bank on Wednesday. After the NATO session she is due to travel to Geneva on Friday to meet with her Russian counterpart, Sergey Lavrov.
On Wednesday, a NATO spokesman said the alliance's secretary-general hopes that Clinton and her fellow foreign ministers will endorse a quick resumption of official contacts with Russia. Spokesman James Appathurai said Russia will be one of two main subjects under discussion; the other is the prospect of developing a more effective strategy for carrying out the stalled war in Afghanistan.
Belgian Foreign Minister Karel de Gucht told reporters after hosting a dinner with his fellow NATO ministers Wednesday night that despite some small differences, there appeared to be a majority in favor of restarting formal ties with Russia.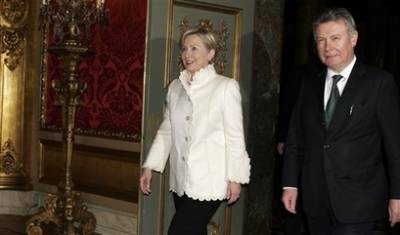 U.S. Secretary of State Hillary Rodham Clinton, left, walks with Belgium's Foreign Minister Karel De Gucht, right, as she arrives for a NATO and EU dinner at the Egmont Palace in Brussels,
Appathurai said the allies expect Clinton to update them on the Obama administration's review of its Afghan war strategy. The United States has more than 30,000 troops in Afghanistan and the alliance has a similar number. Washington has pushed the Europeans for many months to increase their commitments in Afghanistan — military and civilian — but a troop shortage persists, according to U.S. commanders.
Clinton declined Wednesday to discuss the status of the administration's Afghanistan review, which is examining ways to improve not only the military aspect of the struggle but also the international economic and diplomatic aspects. Asked whether Iran might be brought in as a partner in helping to stabilize Afghanistan, Clinton told reporters, "That will be considered."
Appathurai, the NATO spokesman, said Thursday will be "an important opportunity for an exchange of views as we move closer to the NATO summit," referring to an April meeting of NATO heads of government and state at which Afghanistan will be a key topic. "We will wish for all allies to sing from the same song-sheet, and this will be an important stage in that process."
A senior U.S. official, who spoke on condition of anonymity because he was not authorized to speak publicly, said Wednesday evening that Thursday's meeting of allied foreign ministers was expected to decide to authorize a revival of the NATO-Russia Council, a forum in which the allies regularly meet with their Russian counterparts to discuss a wide range of issues.
Clinton told reporters traveling with her Wednesday that the U.S. and NATO relationships with Russia are complicated.
"Just as with the conversation I will begin with Minister Lavrov on Friday, there's an interest in exploring with Russia what kind of cooperation is possible — both with NATO and with the United States on a range of issues," she said.
"In some areas, I think we're going to find there is a great potential for cooperation. In others, we're going to have differences and we will stand our ground and they will stand theirs and we'll hope to find some accommodation, if possible. But there are some actions Russia has taken recently, as you know, over the last several years that are very troubling," she added, referring at least in part to the Georgia war.
The five-day war erupted when Georgia launched an attack to regain control over South Ossetia, which has run its own affairs with Russian support since the early 1990s. Russian forces intervened, driving Georgian troops out of South Ossetia and surrounding areas and pushing deep into Georgia.
U.S. missile defenses are another source of tension with Moscow. The Russians are particularly angry about a Bush administration plan — now under review by the Obama administration — to install missile interceptors in Poland and a missile-tracking radar in the Czech Republic.
Clinton said Wednesday, without saying whether Obama would proceed with the plan, that the Russians should understand that the missile shield is not aimed at them.
"I think they are beginning to really believe it — that this is not about Russia," she said.