BENGHAZI, Libya, June 5, 2011 (AFP) - NATO pounded Tripoli on Sunday hours after Britain's top diplomat met rebel chiefs in Libya and Russia voiced concerns the alliance's military operation is sliding towards a land campaign.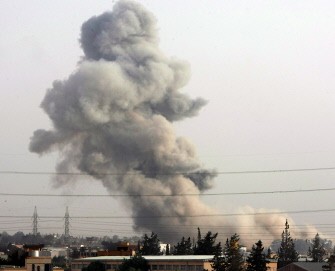 AFP - Smoke billows from Tajura, a suburb of the Libyan capital Tripoli, on June 4, 2011 after NATO warplanes launched intensive air raids on Tripoli and its eastern suburbs.
Warplanes launched intensive air raids on the Libyan capital and its eastern suburbs, where several explosions were heard, as NATO kept up its pressure on strongman Moamer Kadhafi.
British Foreign Minister William Hague on Saturday met leaders of rebels who have been fighting to oust Kadhafi after NATO deployed attack helicopters for the first time.
"We are here today for one principal reason -- to show our support for the Libyan people and for the National Transitional Council, the legitimate representative of the Libyan people," Hague said in a statement.
Hague, accompanied by international development minister Andrew Mitchell, held talks with the head of the rebel National Transitional Council Mustafa al-Jalil.
He also toured Benghazi's landmark seafront as well as a medical centre treating war wounded.
"Kadhafi should leave immediately," Hague said.
He told reporters Britain would also support demining efforts in Misrata, the main rebel-held city in western Libya, and deliver "more equipment, uniforms, bullet-proof jackets" to rebel fighters.
"We have no combat troops in Libya," he added.
But Britain, he said, would stand with the Libyan people "for as long as it takes."
"We could not and did not turn a blind eye when Kadhafi turned his forces against innocent civilians. For as long as Kadhafi continues to abuse his people, we will continue and intensify our efforts to stop him."
Hours after Hague's trip to the rebel capital, a series of NATO air strikes targeted Tripoli.
Four blasts shook Tripoli at around 2:30 am (0030 GMT) Sunday after two powerful but distant explosions were felt in the centre of the capital at around 6:30 pm on Saturday, followed by several others within a few minutes.
Witnesses said the explosions came from Tajura, a suburb that has often been targeted by NATO since an international coalition began military operations against Libya on March 31 to stop strongman Moamer Kadhafi attacking civilians.
Residents of Tajura, most of whom support the rebels, said they were not sure what the raids had targeted but that they could see plumes of black smoke and that aircraft were still circling over the area.
On Saturday, Britain and France said they deployed attack helicopters against Kadhafi's forces for the first time as part the NATO campaign to protect civilians in line with a UN resolution that barred ground troops.
Britain's defence ministry said Apaches on Friday night attacked a radar station and a checkpoint operated by Kadhafi's forces in the strategic oil town of Brega in eastern Libya.
A spokesman for France's military chiefs, Thierry Brukhard, said the copters destroyed about 20 targets and drew light arms fire from forces on the ground but were not damaged.
"We welcome any action that could precipitate the end of (Moamer) Kadhafi's regime," Jalil told reporters in Benghazi.
In its latest operational update issued on Saturday, NATO said it had hit a military camp and three command and control nodes in and around Brega, 240 kilometres (150 miles) southwest of Benghazi.
Moscow, which is calling for a negotiated solution to the conflict, expressed alarm as the NATO campaign entered a new phase.
"We consider that what is going on is either consciously or unconsciously sliding towards a land operation," Foreign Minister Sergei Lavrov said.
"That would be very deplorable," Lavrov, quoted by the RIA Novosti news agency, added in reference to France and Britain's decision to deploy military helicopters in the Libya conflict.
Back in Benghazi, rebels said they are caring for the woman allegedly raped by soldiers loyal to Kadhafi and who fled to Qatar but was deported back to Benghazi earlier this week.
"We are protecting and helping (Iman al-Obaidi)... We appreciate that she exposed the real face of Kadhafi's regime," the NTC's chief Abdul Jalil told reporters.